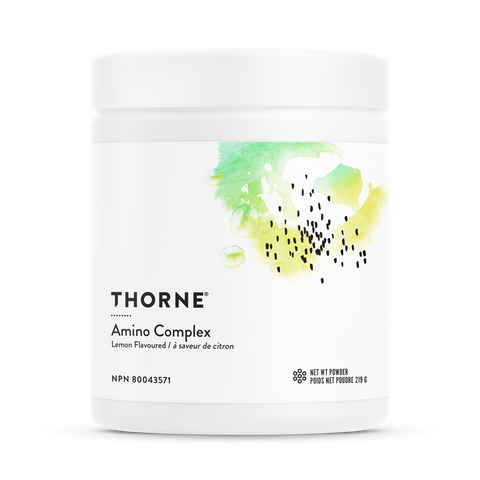 Amino Complex - Lemon 219g - Thorne
Thorne Amino Complex - Lemon 219g
The comprehensive blend of essential amino acids in Amino Complex is high in branched-chain amino acids and has been validated through extensive clinical trials to promote lean muscle mass and muscle strength.
Recommended Use or Purpose (Adults): Source of branched-chain and other essential amino acids for the maintenance of good health.
Recommended Dose: Mix 1 scoop with 177 mL (6 ounces) of water two times daily or as recommended by your health professional. Consult a health professional for use beyond 6 months.
Medicinal Ingredients: Per Scoop: L-Leucine 1,250 mg, L-Lysine (L-Lysine monohydrochloride) 650 mg, L-Isoleucine 625 mg, L-Valine 625 mg, L-Threonine 350 mg, L-Histidine  150 mg, L-Cystine 150 mg, L-Phenylalanine 100 mg, L-Methionine 50 mg, L-Tyrosine 30 mg, L-Tryptophan 20 mg
Non-Medicinal Ingredients: Citric Acid, Lemon Flavour, Stevia rebaudiana leaf extract, Silicon Dioxide, Vitamin B2 (colouring agent).
---
We Also Recommend