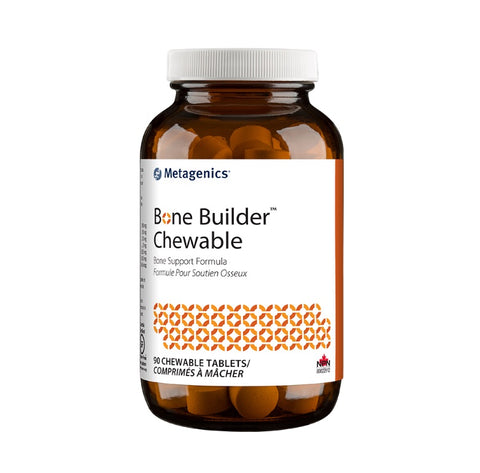 Bone Builder Chewable - 90chewables - Metagenics
Metagenics Bone Builder Chewable
Non-Medicinal Ingredients: Sorbitol, fructose, cocoa, natural chocolate flavour, stearic acid (veg), natural cream flavour, silicon dioxide, guar gum, and natural vanilla flavour.
Recommended Dose: Adults take 3 tablets daily or as directed by your healthcare practitioner. Take a few hours before or after taking other medications.
Recommended Use: Helps in the development and maintenance of bones and teeth. Adequate calcium and vitamin D, as part of a healthy diet, may help prevent bone loss/osteoporosis.
Caution: If you are pregnant or breastfeeding consult your healthcare practitioner before use. Keep out of reach of children. Do not use if perma seal is missing.
This product is non-GMO and gluten-free.
†Microcrystalline hydroxyapatite from New Zealand.
Ingredients: Each tablet contains: Calcium (MCHC†, dicalcium phosphate) 100 mg, Phosphorus (MCHC†, dicalcium phosphate)55 mgMagnesium (magnesium bisglycinate)25 mg, Zinc (zinc citrate)2mg, Copper (hydrolyzed vegetable protein chelate)0.25 mg, Manganese (manganese citrate)0.25mg, Vitamin D (cholecalciferol) 0.63 mcg
---
We Also Recommend