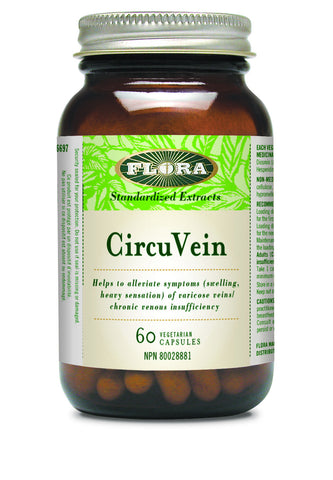 CircuVein - 60vcaps - Flora
Say Goodbye to Varicose Veins!
Flora's CircuVein is clinically proven to reduce the appearance of varicose veins in 2 months! The first product of its kind, CircuVein alleviates symptoms of varicose veins. This clinically-proven formula also relieves symptoms of hemorrhoids.
CircuVein's medicinal ingredients, Diosmin and hesperidin are bioflavonoids. They are found naturally in citrus fruits and we source ours from Spanish oranges. These bioflavonoids have been studied since 1971 and have been proven to be effective. Since launching CircuVein, we have received numerous testimonials from satisfied customers.
NPN Claim
Clinically proven to alleviate symptoms (swelling, heavy sensation) of varicose veins / chronic venous insufficiency
Features
Improves appearance of varicose veins by reducing swelling
Supports veins by reducing inflammation
Also relieves symptoms (pain, edema, bleeding) associated with acute and chronic hemorrhoid diseases
Vegan
Gluten-free
2014 Silver Alive Award Winner - Women's Product
EACH VEGETARIAN CAPSULE CONTAINS:

MEDICINAL INGREDIENTS:
Diosmin (Citrus sinensis fruit) . . . . . . . . . 450 mg
Hesperidin (Citrus sinensis fruit) . . . . . . . . . 50 mg

NON-MEDICINAL INGREDIENTS: Microcrystalline cellulose, silicon dioxide, magnesium stearate (plant-source), hypromellose
RECOMMENDED DOSE:
For Varicose Veins and Chronic Venous
Insufficiency:
Take 1 capsule twice daily with meals. Use for a
minimum of 2 months to see beneficial effects.
Store in a cool, dry place.
Keep out of reach of children.
CAUTIONS & WARNINGS:
Consult a health care practitioner prior to use if you are: 1) pregnant or breastfeeding 2) taking any prescription medications.
Consult a health care practitioner if symptoms
persist or worsen.
Always read and follow the label to ensure this product is right for you.
Available as:
---
We Also Recommend