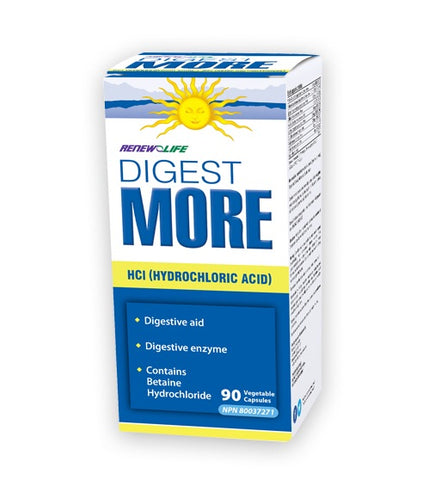 DigestMORE HCl - 90vcaps - Renew Life
Renew Life DigestMORE HCl
DigestMORE HCl is a comprehensive digestive enzyme formula that contains Betaine Hydrochloride (HCl). DigestMORE HCl is helpful for those who suffer from heartburn caused by low stomach acid. It can also be used by those who are concerned about accidental ingestion of bacteria or parasites when traveling or eating out at restaurants.
These bacteria will putrefy food in the stomach, releasing volatile fatty acids and gases. These gases cause bloating after meals, and it is these volatile fatty acids and stomach acid being forced up into the esophagus that causes heartburn. 
DigestMORE HCl can be helpful if:
You experience heartburn after any sized meal
You have gas or bloating and experience accompanying heartburn after eating specific types of food (i.e. proteins) or after combining certain types of foods (i.e. mixing proteins and carbohydrates)
You are concerned about ingesting bacteria or parasites with your food (i.e. when traveling or eating out at restaurants e.g. sushi)
Directions for Use
Adults: Take one capsule with each meal, to a maximum of 3 capsules a day. Take with first bite of food / meal.
DigestMORE HCl
Each capsule contains:
Alpha-Amylase (Aspergillus flavus var. Oryzae – Whole)

90mg / 9000 FCC DU

Protease (Fungal Protease, Aspergillus flavus var. Oryzae – Whole)

40mg /20,000 FCC HUT

Lipase (Triacylglcerol lipase, Aspergillus niger – Whole)

11.25mg / 36 FCC LU

Cellulase (Trichoderma reesei – Whole)

2mg / 250 FCC CU

Invertase (sucrose Saccharomyces cerevisiae – Whole)

0.5mg / 50 FCC SU

Lactase (Aspergillus flavus var. Oryzae – Whole)

2.5mg /250 FCC ALU

Malt Diastase (Hordeum vulgare – Seed)

12.5mg / 125 FCC DP

Pectinase (Aspergillus niger – Whole)

4mg / 60 Endo-PG

Phytase (Aspergillus niger – Whole)

1mg / 2 FCC FTU

Betaine HCl

200mg
Lipase can be measured in different ways. The most accurate is FCC LU.
1 FCC LU = 10 FCC FIP = 25 LU
Non-medicinal Ingredients: Vegetable capsules (hypromellose, water), Peppermint Flavour, Maltodextrin (potato source)
Contains no nuts, peanuts, sesame seeds, mustard seeds, wheat, gluten, yeast, corn, egg, dairy, soy, crustaceans, shellfish, fish, animal products, artificial colour, or preservatives, binders or fillers. Renew Life does not use genetically modified ingredients. All ingredients are NON-GMO / GMO-FREE.
---
We Also Recommend