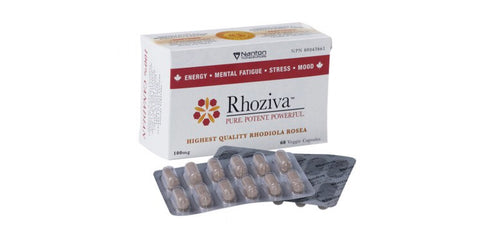 Rhoziva 100mg - 60vcaps - Nanton Nutraceuticals
Nanton Nutraceuticals Rhoziva 100mg 
Rhoziva is a proprietary herbal blend utilizing the powerful Rhodiola rosea root which helps to fight fatigue, promote mental focus and clarity, enhance memory, increase physical endurance during periods of physical exertion and help support physical and mental stamina during times of increased stress.
Rhodiola rosea protects against glutathione depletion, helping maintain immune function by acting as a potent antioxidant. In addition to helping the body form red blood cells and maintain proper muscle function, Rhodiola rosea also improves the body's ability to metabolize carbohydrates, fats and proteins while helping maintain healthy skin.
In the creation of Rhoziva, we adhere to and surpass all government quality control testing standards and protocols to bring you a Pure, Potent and Powerful Rhodiola rosea product.
Increased energy at the cellular level
Anti-aging
Stress reduction
Cardiovascular health
Anxiety levels
Mood enhancement
Male and female sexual function
Overall well being
Increased stamina
Lowered cortisol levels
Stronger immune system
Healthier hormonal balance
Enhanced physical performance
Improved brain function
Memory retention
Mental clarity
Recommended Dose:
Adults 18+ take one capsule in the morning and one capsule early afternoon OR two capsules in the morning, with or without food.
Medicinal ingredients: (per 1 capsule)
 

%DV

Rhodiola rosea root (extract) (3% Total Rosavins)


Other actives include: Salidroside, Tyrosol, Rosiridin, Kaempferol, Gallic acid and Cinnamic acid.

100mg

*

Vitamin E (d-alphatocopheryl)

[8IU] 3.6 AT

*

Vitamin D3 (Cholecalciferol)

[200IU] 5mcg

*

Vitamin B5 (Pantothenic acid)

12.5mg

*

Vitamin B6 (Pyridoxine hydrochloride)

2.5mg

*

Vitamin B12 (Methylcobalamin)

2.5mcg

*

Zinc (Zinc oxide)

7.5mg

*

Magnesium (Magnesium Glycinate)

37.5mg

*

Folic Acid (Folate)

100mcg

*

* Daily Value not established

 

 
---
We Also Recommend