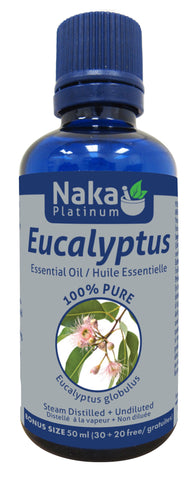 Eucalyptus Essential Oil - 50ml - Naka
NAKA PLATINUM ESSENTIAL OIL EUCALYPTUS 50ML 
FOR EXTERNAL + AROMATIC USE ONLY. DO NOT TAKE ORALLY. KEEP OUT OF REACH OF CHILDREN. For freshness store in a cool, dry place, avoid direct sunlight.
Suggested Use: Refreshing, mental stimulant, energizing. 
Ingredients: 100% pure Eucalyptus (eucalyptus globules) oil undiluted.
Extraction: Steam distilled from fresh leaves.
Cautions and Warnings: If accidental ingestion occurs, seek urgent medical attention or contact a Poison Control Center. Avoid contact with skin, eyes and mucous membranes. If you are pregnant or breastfeeding, do not use this product. If you experience nausea, dizziness, headache or an allergic reaction, discontinue use.
---
We Also Recommend