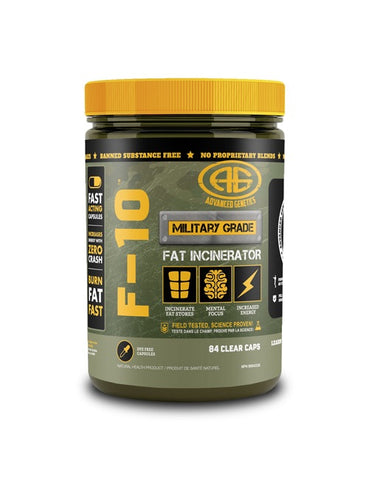 F-10 Fat Burner - 84caps - Advanced Genetics
Advanced Genetics F-10 – Fat Burner
THE WORLD'S FASTEST ACTING FAT BURNER!
Go beyond shredded with F-10™, fat incinerator! F-10 was designed to burn fat – fast! It combines the most cutting-edge fat loss ingredients into one powerful formula strong enough for professional physique athletes. F-10 is MILITARY GRADE!
F-10 WILL:
increase abdominal fat loss
boost resting metabolic rate
crush appetite and cravings
increase thermogenesis
boost cAMP
optimize thyroid function
enhance energy and focus
HOW TO USE:
For maximum results, F-10 is taken twice per day. 2 capsules first thing in the AM and 2 mid-afternoon.
It can be taken 30 minutes prior to cardiovascular or anaerobic activity. The Fat Incinerator Formula will ensure you get the most from your effort in the gym!
F-10 can also be taken on non-training days first thing in the AM and early in the afternoon. On off days, it will keep your metabolism working on overdrive!
Bodybuilders stack this product with GP3 EVO™ and ALPHA™ to achieve a very lean and muscular physique.
Ingredients:
Green Tea Extract/Quercetin – potent anti-oxidants and increase thermogenesis, energy and fat oxidation.
Caffeine/Synephrine/Dendrobium – ignite norepinephrine, adrenaline and increase cAMP.
Raspberry Ketones – speed up lipolysis and suppress appetite.
Sweet Red Pepper Extract – raises internal body heat and suppresses appetite.
---
We Also Recommend