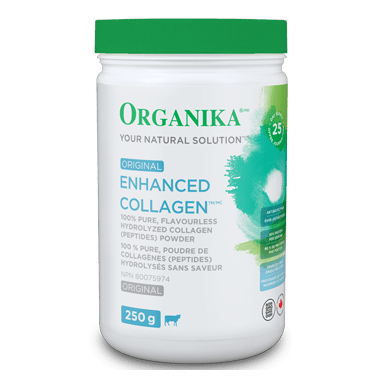 Original Enhanced Collagen - 250g - Organika
ENHANCED COLLAGEN ORIGINAL (COLLAGEN PEPTIDES)
From the hides of grass-fed, pasture-raised, hormone and anti-biotic free American cattle.
Restore and rebuild collagen with Organika®'s flavourless, hydrolyzed Enhanced Collagen™ (peptides). Peptides are short-chain amino acids naturally derived from collagen protein. These natural peptides are highly bioavailable, digestible and soluble. They help reverse UVB-induced skin damage, as well as changes to the skin due to chronic exposure to UVA and UVB exposure. Peptides also release the anorectic hormone peptides that make you feel more satisfied and full.
This product also contains the key amino acids glycine, lysine and proline for revitalizing, firming and smoothing your skin. Increased intestinal permeability is a likely cause of various ailments, such as allergies and metabolic and cardiovascular disturbances. Intestinal permeability is found in many severe clinical situations and common disorders such as irritable bowel syndrome (IBS). Organika®'s Enhanced Collagen™ contains glutamine which is known for reducing intestinal permeability (IP).
Sourced from grass-fed cows, Organika®'s Enhanced Collagen is rBGH & BSE-free (no antibiotics or hormones), with no artificial sweeteners or GMO ingredients. Organika also test for all heavy metals and micriobiological contaminants.
Enhanced Collagen is virtually tasteless and can be used in all desserts, baking, smoothies and cooking. Available in convenient sachets as well, which are great for travel!
BENEFITS:
Grass-fed, Pasture-raised, unflavored, pure collagen.
Easy to use in your favourite coffee, tea, and baking.
Type I and III collagen.
Ketogenic and Paleo diet friendly.
RECOMMENDED USE OR PURPOSE: Source of the essential amino acids histidine, isoleucine, leucine, lysine, methionine, phenylalanine, threonine, valine for the maintenance of good health and involved in protein synthesis. Source of the non-essential amino acids alanine, arginine, aspartic acid, glutamic acid, glycine, proline, serine involved in protein synthesis. Source of the essential amino acid lysine to help in collagen formation.
MEDICINAL INGREDIENT – EACH TABLESPOON CONTAINS:
Hydrolyzed Collagen (Peptides) (Bovine Skin) 8.5 g
Providing the following Typical Amino Acid Profile:
Alanine 8.5% (722 mg)
Arginine 8.5% (722 mg)
Aspartic Acid 5.75% (489 mg)
Glutamic Acid 10.8% (918 mg)
Glycine 24.25% (2,061 mg)
Histidine 0.75% (64 mg)
Hydroxylysine 1.0% (85 mg)
Hydroxyproline 13.25% (1,126 mg)
Isoleucine 1.65% (140 mg)
Leucine 3.25% (276 mg)
Lysine 4.05% (344 mg)
Methionine 0.8% (68 mg)
Phenylalanine 2.35% (200 mg)
Proline 14.6% (1,241 mg)
Serine 3.7% (315 mg)
Threonine 2.2% (187 mg)
Valine 2.8% (238 mg)
NON-MEDICINAL INGREDIENTS: None.
RECOMMENDED DOSE – (ORAL) ADULTS ONLY:
Mix 1 tablespoon (8.5 g) in half a cup or more of cold water, juice or your favourite beverage.
CAUTIONS: Consult a health care practitioner prior to use if you are pregnant or breastfeeding; have liver or kidney disease or if you have been instructed to follow a low protein diet. May cause mild gastrointestinal disturbances.
CONTAINS NO: Dairy, egg, artificial preservatives, colours, yeast, artificial sweeteners, wheat, corn, soya, gluten, or GMO ingredients.
---
We Also Recommend