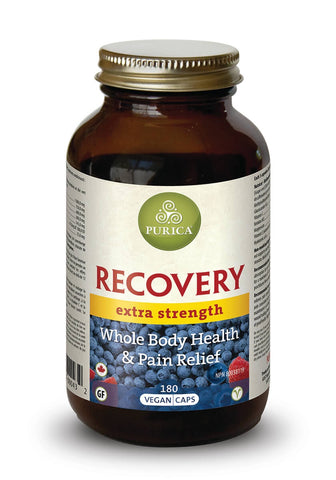 Recovery Extra Strength - 180vcaps - Purica
RECOVERY  targets the root cause of pain, providing effective and sustained relief to people dealing with sore joints and muscles, recovering from injury or rehabbing from surgery.  Yet it is as beneficial for people wanting to avoid those aches and pains in the first place. By inhibiting cellular damage, curbing inflammation, relaxing tension and increasing the cells' ability to absorb important hormones, RECOVERY® bring results. far beyond your expectations. We like to think it defies description, although Whole Body Health & Pain Relief is a good start. 
Back pain
Hip pain
Knee pain
Neck pain
Shoulder pain
Wrist pain
Injury rehabilitation
Surgery rehabilitation
Action
Potent pain relief, helps to halt damage
Accelerates and improves healing
Regulates inflammation and spasm throughout the body
Reported main uses
Musculoskeletal damage, pain and spasm
Soft tissue injury and pain
Breathing issues
Digestive and intestinal issues
Skin issues
The wisdom of NUTRICOL®
Increases membrane receptivity to hormones
Halts damage that initiates inflammatory reactions
Inflammation-regulating benefits
Enhances cell and tissue repair
How it works
Researchers have found that the so-called dis-eases of aging have similar underlying factors: a decrease in cell stability leading to the release of compounds that promote damage, inflammation, spasm and pain. RECOVERY® changes the behaviour of cells that have been damaged by chronic inflammation, injury, surgery or over-training. The result? Reduced discomfort and an improved quality of life.
Recommended dose for adults:
Take 5 capsules 2 times daily. For best absorption do not administer with dairy. Avoid taking at bedtime. Use for a minimum of 4 weeks to see beneficial effects. Consult a health care practitioner for use beyond 12 weeks.
Recommended use or purpose:
Glucosamine hydrochloride reduces and relieves pain associated with osteoarthritis. MSM helps relieve the joint pain associated with osteoarthritis. Vitamin C helps the development and maintenance of cartilage; the formation of connective tissue, and assists in wound healing. Vitamin C and Vitamin E are antioxidants for the maintenance of good health. Magnesium helps to maintain proper muscle function.
Each 5 capsules (3 grams/.105 oz) contains (medicinal ingredients):
Nutricol® – Bioflavonoids
{Grape seed (Vitis vinifera), 125.0 mg, 95.0% Proanthocyanidins and decaffeinated green tea (Camellia sinensis), 125.0 mg, 95.0% Polyphenols}
Methylsulfonylmethane
1,000 mg
Glucosamine HCL
750 mg
Vitamin C
400 mg
Betaine HCL
200 mg
Magnesium
145 mg
Vitamin E (natural d-alpha tocopheryl acetate)
67.0 mg AT 100.0 IU
Hyaluronic acid
25.0 mg
Non-medicinal ingredients: Organic blackberry, organic cranberry, organic red raspberry and organic blueberry fruit powder. Hypromellose, microcrystalline cellulose, magnesium stearate (plant source). Gluten Free
---
We Also Recommend