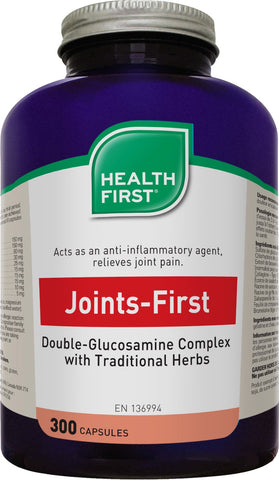 Joints-First Double-Glucosamine Complex - 300caps - Health First
Health First Joints-First Double-Glucosamine Complex
Recommended use or purpose:
Acts as an anti-inflammatory agent, relieves joint pain.
Product Brief: Helps to relieve joint pain associated with osteoarthritis. Contains glucosamine complex and anti-inflammatory herbs
Recommended dose:
Adults: Begin with 1 capsule per day for a three to four day trial period. If all is well, increase dosage to 2 capsules, 2-3 times daily until desired effects are achieved. Thereafter decrease dosage to a level that maintains desired effect. Do not exceed 6 capsules daily unless on the advice of your health care provider.
Each capsule contains:
Glucosamine Sulfate (2-Amino-2-deoxy-beta-D-glucopyranose)                        150 mg
Glucosamine HCL (2-Amino-2-deoxyglucose hydrochloride)                              150 mg
Boswellia Extract (Boswellia serrata) standardized to 65% boswellic acid          60 mg
Collagen – Type II (bovine)                                                                                           30 mg
White Willow Bark (Salixalba)                                                                                      25 mg
Yucca Root Powder (Yuccaschidigera)                                                                         15 mg
Devil's Claw Root Powder (Harpagophytumprocumbens)                                      15 mg
Sarsaparilla (Smilaxofficinalis)                                                                                      15 mg
Feverfew Leaf Powder (Tanacetum parthenium)                                                      10 mg
Bromelain (pineapple stem/fruit) 2400 GDU/g                                                         5 mg
Non-medicinal ingredients:
Silicon dioxide, magnesium stearate and capsule shell (from gelatin and purified water).
---
We Also Recommend