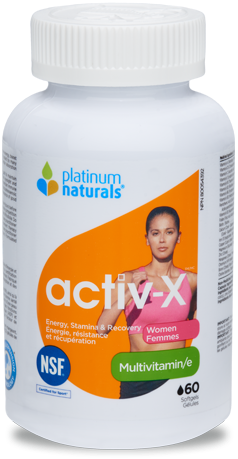 Activ-X Women - 60 softgels - Platinum Naturals
activ-X 60 gels for Women
You fuel your performance with determination and grit. activ-X delivers with powerful adaptogens and anti-inflammatories to amplify energy, stamina, mental clarity and focus
Milk thistle, is an herb with antioxidant and anti-inflammatory properties. Studies show that milk thistle helps the liver to mediate cell damage caused by the generation of lactic acid and free radicals during intense exercise. Lactic acid and free radicals cause muscle fatigue, interfering with athletic performance.
Alpha lipoic acid a critical component of the cell's antioxidant defense system. It supports the maintenance of a healthy antioxidant defense system including glutathione. Alpha lipoic acid counters oxidative stress and inflammation, and aids in recovery after a workout.
Powerful adaptogens fuel performance
Athletes worldwide use adaptogens such as ginseng and cordyceps to improve performance and endurance without inducing jitters or nervousness.
These two potent adaptogens are shown to boost stamina by increasing oxygen in the blood, thereby enhancing athletic performance.
Free of substances banned in sport
Experience peace of mind knowing that activ-X is Certified For Sport by NSFTM. International, a rigorous certification that ensures activ-X has passed manufacturing facility audits, label claims and WADA, MLB and the NFL banned substance testing.
Absorb what you ingest
Your body only uses what it absorbs. Our award-winning Omega Suspension Technology (OST®) suspends the ingredients in healthy omega oils to protect the nutrients from losing potency, and enables your body to absorb more, giving you results you can feel.
Recommended Dose: (Adults) Take 2 softgels daily. Take with food, a few hours before or after taking other medications. Or take 2 softgels, 30-60 minutes before a competition or workout. 
---
We Also Recommend