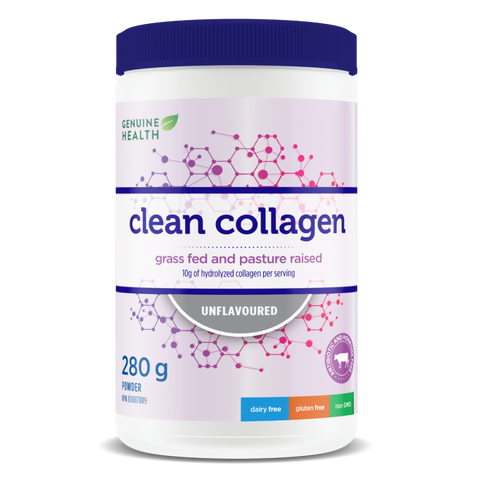 Clean Collagen - Bovine Unflavoured 280g - Genuine Health
Genuine Health Clean Collagen Bovine Unflavoured 280g
Just one serving per day helps to protect against collagen loss to improve skin hydration, joint health, and so much more. 
10 grams of pure hydrolyzed bovine collagen from grass-fed, pasture-raised, USDA cattle per serving!
We are all made from collagen. It's the most abundant protein in our bodies. But beginning in our 20s, our bodies naturally produce less of it. Collagen loss is usually seen on the skin, where lines and wrinkles form. But underneath it all, loss of collagen also affects the integrity of our bones, joints and muscles.
We created clean collagen to make it easy to get the collagen you need each day to look and feel your best.
clean collagen is:
 Easy to absorb: 10 grams of pure hydrolyzed collagen per serving.
Sustainably- & consciously-sourced: Sourced from grass-fed, pasture-raised, USDA cattle that are by-products of other industries and would otherwise be unused.
Easy to use: Simply mix clean collagen into water, coffee, tea, smoothies, energy balls, oatmeal or soup… the list goes on!
Free from: Gluten, Dairy, GMOs.
Recommended Use: Source of essential amino acids involved in protein synthesis. Source of the amino acid lysine to help collagen formation.
Adult Dosage: Add one scoop (10 g) per day to a hot or cold beverage of your choice and shake or stir until fully dissolved.
Ingredients: Hydrolized collagen (bovine skin)
clean collagen contains no gluten, dairy, artificial colours or flavours.
Caution: Consult a health care practitioner prior to use if you are pregnant or breastfeeding. May cause mild gastrointestinal disturbances.
---
We Also Recommend