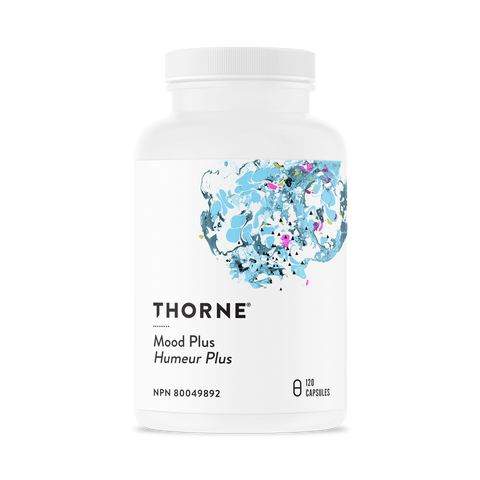 Mood Plus - 120caps - Thorne
Thorne Mood Plus
Mood Plus is a multi-faceted formula designed to safely enhance mood and cognition. It combines several known mood-enhancing nutrients and botanicals, such as L-tyrosine and 5-HTP, with other key ingredients, including Rhodiola, Eleutherococcus, and PharmaGABA®, to promote healthy neurotransmitter and adrenal function.
Mood Plus is a "Hypericum free" formula. It is now known that Hypericum (St. John's wort) can induce the cytochrome p450 3A4 (CYP3A4) enzyme and thus reduce blood levels of medications metabolized by this enzyme. Because it does not contain Hypericum, Mood Plus is suitable for patients taking medications metabolized by CYP3A4.
Low serum and red blood cell concentrations of vitamin B12 can have an adverse effect on mood. Vitamin B12 supports healthy neurological function and red blood cell formation, two factors that can enhance overall mood and stress management.
Eleuthero (Eleutherococcus senticosus) is a well-known adaptogen and is included in Mood Plus to provide general adrenal support. Gamma aminobutyric acid (GABA), an inhibitory neurotransmitter that balances excessive excitatory responses in the brain, is included to help allay stress and support a calm state of mind. GABA is provided as the patented, all natural-source PharmaGABA. Mood Plus is safe and effective for mood enhancement and a valuable addition to any stress management plan.
Recommended Use or Purpose (Adults): Helps in the function of the thyroid gland. Helps to promote healthy mood balance and temporarily promote relaxation and relieve symptoms of stress (such as mental fatigue and sensation of weakness).
Recommended Dose (Adults): Take 2 capsules two times daily or as recommended by your health professional. Take with food. Not to be taken immediately before bedtime. Consult a health professional for use beyond 12 weeks.
Medicinal Ingredients: Per Capsule: Vitamin C (Ascorbic Acid) 125 mg, L-Tyrosine 100 mg, Pantothenic Acid (Calcium D-Pantothenate) 65 mg
L-5-Hydroxytryptophan (Griffonia simplicifolia) (seed) 25 mg, Eleutherococcus senticosus (Siberian ginseng) extract (root) 25 mg, Gamma-Aminobutyric Acid (GABA) (Lactobacillus hilgardii)* 25 mg, Rhodiola rosea (Rhodiola) (root) (5:1 extract) 25 mg, Standardized to 3% rosavins and 1% salidrosides, Vitamin B6 (Pyridoxal 5'-Phosphate) 2.5 mg, Vitamin B12 (Methylcobalamin) 275 mcg, Folate (L-5-Methyltetrahydrofolic Acid, Glucosamine Salt) 200 mcg, Iodine (Potassium Iodide) 34 mcg
Non-Medicinal Ingredients: Hypromellose (derived from cellulose) capsule, L-Leucine, Calcium Laurate, Magnesium Citrate, Silicon Dioxide.
---
We Also Recommend