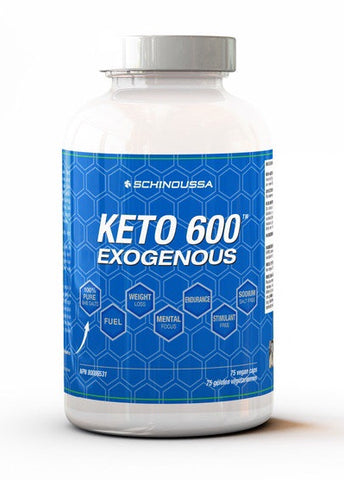 Keto 600 Exogenous - 75vcaps - Schinoussa
Schinoussa KETO 600 
Keto 600 is our #1 Ketogenic Weight Loss formula that combines key BHB salts to help you boost mental focus, and promote endurance. Keto 600 is a researched formula that achieves a needed support for weight loss efforts. BHB Salts (Beta Hydroxybutyrate), are able to help fuel your brain during low-carb dieting and support electrolytes, which may be depleted during a ketogenic diet. Being in ketosis may boost performance and allow fat to be used for fuel much easier.
Product Benefits
The exogenous keto salts are able to active a keto diet, maintain a state of ketosis and provide mental and physical energy when no or minimal calories from sugar or carbs are available. Fat stores are quickly released fro energy and weight loss occurs
Note: 50/50 blend of calcium and magnesium salts.
*When used in conjunction with a ketogenic diet, you may experience fat loss at a faster rate than normal
Product Highlights
• 100% pure BHB salts
• Weight Loss
• Fuel
• Mental Focus
• Endurance
• Stimulant free
• Sodium salt free 
• 75 vegan caps
Ingredients per Capsule
D-3-Hydroxybutyrate (beta-Hydroxybutyrate)…….600 mg
Sources from Calcium and Magnesium
Non-medicinal ingredients :
Hypromellose
-HPMC vegetarian capsules are made of hypromellose and water, no preservatives, additives or excipients, and are non-GMO.
Recommended Dose: Take  (1) one V-cap, three times per day before meals with water.
Recommended Use:  Supports energy metabolism.
---
We Also Recommend