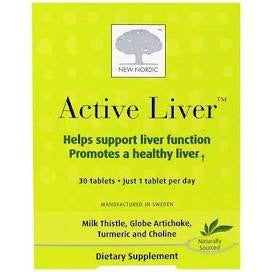 Active Liver - 30tabs - New Nordic
New Nordic Active Liver
Helps promote a healthy liver
High strength herbal combination
Your "daily detox" tablet
PRODUCT DESCRIPTION
If you are feeling exhausted and in need of revitalization, you should consider a detox or cleanse. With Active Liver you have the tools to do this gently and on a daily basis. Each day, our liver is working hard to remove waste products and toxins from processed foods, unclean air, water and even our own body. But as we get exposed to increasingly more toxins, the liver struggles to remove them all and starts storing them in our body fat. We notice the results in our energy levels, in our lack of youthful appearance - and surprisingly - on our waistlines.
This product is free of: Sugar, salt, gluten, yeast, soy and dairy products and it is formulated without the use of preservatives, flavors or colors of any kind. Suitable for vegetarians and vegans.
DAILY DOSE (ADULT): Take 1 tablet a day, taken with a liquid. The daily dosage should not be exceeded.
MEDICINAL INGREDIENTS
PER TABLET
Globe artichoke leaf extract (Cynara scolymus L.) (13.5:1 = 2997mg)
222 mg
Milk thistle fruit extract (Sylibum marianum L.)
   80% silymarin
250 mg
200 mg
Turmeric rhizome extract (Curcuma longa L.) (10:1 = 1500 mg)
150 mg
---
We Also Recommend