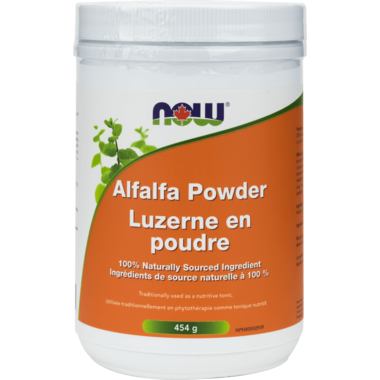 Alfalfa Powder 454g - Now Foods
Description:
NOW Foods Alfalfa Powder has a balanced nutritional content and is an excellent source of Vitamin K. Alfalfa is a green superfood that is abundant in vitamins, minerals, and chlorophyll. It has been consumed since ancient times and has been used by herbalists world-wide for centuries. Its name, "Alfalfa" comes from the Arabic language and means "Father of All Foods". Alfalfa Powder can be blended into vegetable juices or used in baking or in vegetarian dishes.

Features:
Traditionally used as a nutritive tonic
100% Naturally Sourced Ingredient
Source of Vitamin K
Egg free, soy free
Directions: Adult Dosage: Take 1 tablespoon with 355 mL of your favourite juice, 3 times daily. Stir vigorously or use a blender.

Ingredients:
Each tablespoon (15 mL) contains:
Alfalfa Leaf (Medicago sativa L.) 10 g

Non-Medicinal Ingredients: None.

Caution: Consult a health care practitioner prior to use if you are taking blood thinners, are undergoing hormone replacement therapy (HRT) or taking birth control medication. Do not use if you have a history of systemic lupus erythematosus, are pregnant or breastfeeding.