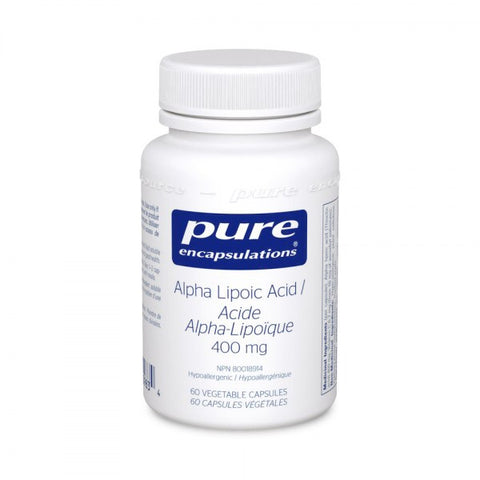 Alpha Lipoic Acid 400 mg - 60vcaps - Pure Encapsulations
Pure Encapsulations Alpha Lipoic Acid 400 mg
Promotes healthy glucose metabolism
Provides 400 mg of alpha lipoic acid perday
Alpha lipoic acid is an exceptionally versatile nutrient. Being both water- and fat-soluble, this multifunctional compound is able to function in almost any part of the body. Alpha lipoic acid supports healthy glucose metabolism by regulating enzymes involved in glucose oxidation. Maintaining healthy glucose metabolism is fundamental to preventing the formation of advanced glycation end products (AGE), which decrease the function of body proteins, lipids and nucleic acids. In addition to supporting healthy glucose metabolism, the antioxidant properties of alpha lipoic acid also decrease oxidative stress, which is closely related to AGE production and is a known contributing factor to many of the same health concerns associated with AGE. Alpha lipoic acid scavenges free radicals and regenerates the antioxidant vitamins C and E. This formulation also includes vitamin C to further support and enhance the body's natural defence mechanisms against free radicals.
Recommended Use: Provides antioxidants for the maintenance of good health.
Recommended Dose: Adults: Take 1 capsule daily or as directed by a healthcare practitioner.
Medicinal Ingredients (per capsule): DL-Alpha lipoic acid (thioctic acid) 400 mg.
Non-Medicinal Ingredients: Hydroxypropyl methylcellulose, Purified water, Hypoallergenic plant cellulose, Ascorbyl palmitate.