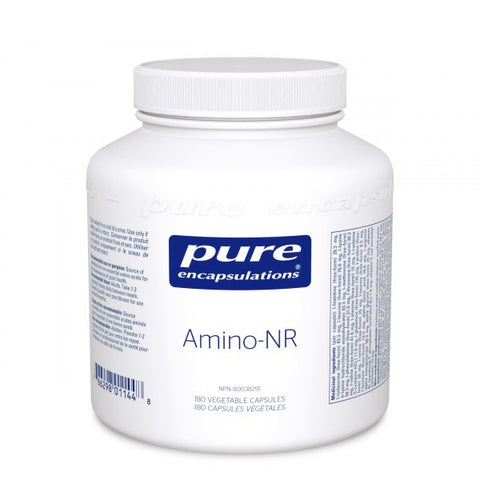 Amino-NR - 180vcaps - Pure Encapsulations
Pure Encapsulations Amino-NR
Natural ratio amino acid complex
• Assists in the building of lean muscle mass when combined with regular resistance training and a healthy balanced diet.
• Provides amino acids involved in muscle protein synthesis
Amino-NR is a complex of amino acids in naturally occurring ratios, providing support for daily wellness. Amino acids are the building blocks for all proteins, making them essential for a number of body functions, including fluid balance, enzyme production, cellular repair and energy metabolism. In everyone from trained athletes to the elderly, amino acids play an important role in muscle protein synthesis. Amino acids also provide important support by assisting in the building of lean muscle mass when combined with regular resistance training and a healthy balanced diet. l-Methionine, an essential amino acid, is a lipotropic compound that also supports healthy hepatic function, including lipid metabolism. This formula is based on the ratios of amino acids found naturally in high-biological value (BV) protein sources. In addition to offering a comprehensive blend of amino acids, Amino-NR provides alpha ketoglutarate, taurine and vitamin C. Alpha lipoic acid is also included to provide antioxidant support for the maintenance of good health, while vitamin B6 acts as a cofactor for healthy amino acid metabolism.
Recommended Use: Assists in the building of lean muscle mass when combined with regular resistance training and a healthy balanced diet. Source of amino acids involved in muscle protein synthesis.
Recommended Dose: Adults: Take 1-2 capsules 3 times daily between meals or as directed by a health- care practitioner. Ensure to drink enough fluids before, during, and after exercise. Consult a healthcare practi- tioner for use beyond 12 weeks.
Medicinal Ingredients (per capsule): Vitamin B6 (pyridoxal-5-phosphate) 1.1 mg, alpha-Ketoglutarate acid 33.3 mg, DL-alpha Lipoic Acid 16.6 mg, L-Histidine (free-form) 25.7 mg, L-Isoleucine (free-form) 39 mg, L-Leucine (free-form) 69 mg, L-Lysine (L-Lysine monohydrochloride) 60 mg, L-Methionine (free-form) 52.6 mg, L-Phenylalanine (free-form) 28.6 mg, L-Threonine (free-form) 34.6 mg, L-Valine (free-form) 37.7 mg, L-Alanine (free-form) 13.6 mg, L-Arginine (L-Arginine monohy- drochloride) 18.7 mg, L-Glutamine (free-form) 112.7 mg, Glycine (free-form) 22.6 mg, L-Proline (free-form) 45 mg, L-Serine (free-form) 22.6 mg, Taurine (free-form) 7.7 mg, L-Tyrosine (free-form) 12 mg, L-Tryptophan (free-form) 11 mg.
Non-Medicinal Ingredients: Hydroxypropyl methylcellulose, purified water, ascorbyl palmitate.