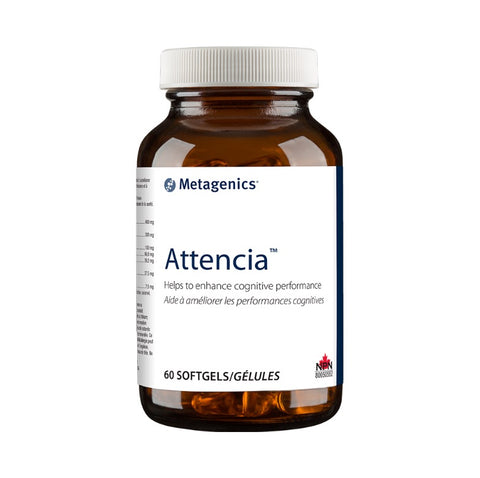 Attencia - 60gels - Metagenics
Metagenics Attencia
Non-Medicinal Ingredients: Gelatin, glycerin, water, beeswax, lecithin, caramel, zinc oxide, and annatto extract.
Recommended Dose: Adults take 1 softgel twice daily (4 hours apart) with food or as directed by your healthcare practitioner. Take a few hours before or after taking other medications.
Recommended Use: Helps to promote alertness and wakefulness, and to enhance cognitive performance. Helps to relieve fatigue, to promote endurance, and to enhance motor performance.
Caution: For occasional use only. If you are pregnant or breastfeeding consult your healthcare practitioner before use. Consult a healthcare practitioner prior to use if you are taking lithium, have high blood pressure, glaucoma, and/or overactive bladder syndrome. Consumption with other caffeine-containing products, natural health products or other drugs which increase blood pressure is not recommended. This product is not intended as a substitute for sleep. Hypersensitivity/allergy is known to occur, in which case, discontinue use. Caffeine may cause anxiety, tachycardia, palpitations, insomnia, restlessness, nervousness, tremor and headache. Do not use if perma seal is missing.
| Medicinal Ingredients: | | Each softgel contains: |
| --- | --- | --- |
| Fish Oil (providing 60 mg EPA, 156 mg DHA) (Derived from a blend of: anchovy, sardine, tuna, mackerel) | | 400 mg |
| Borage Oil (Borago officinalis, seed) (providing 60 mg gamma-linolenic acid) | | 300 mg |
| L-Theanine | | 100 mg |
| Caffeine (Coffea canephora, seed) | | 96.8 mg |
| Green Coffee Bean Extract (Coffea canephora) containing 45% chlorogenic acids | | 39.2 mg |
| Guarana (Paullinia cupana) 6:1 seed extract equivalent to 225 mg of Guarana, 11% caffeine | | 37.5 mg |
| Zinc (zinc citrate) | | 7.5 mg |