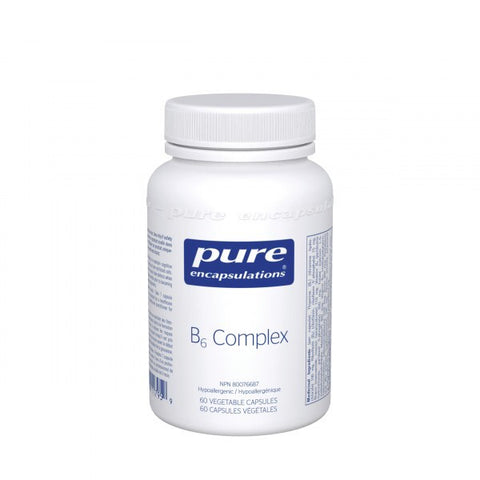 B6 Complex - 60vcaps - Pure Encapsulations
Pure Encapsulations B6 Complex
Comprehensive B vitamin supplement to help maintain nutrient metabolism, red blood cell formation and cognitive functions
Includes researched and activated forms, including pyridoxal-5-phosphate, riboflavin-5-phosphate and folate as L-5-methyltetrahydrofolate (L-5-MTHF), the universally metabolized and biologically active form of folate
Offers vitamin B12 in a unique blend of methylcobalamin, adenosylcobalamin and hydroxocobalamin
Includes choline and inositol
Made with hypoallergenic, vegan ingredients
B6 Complex offers a comprehensive blend of B vitamins with high levels of vitamin B6packed into one easy-to-take supplement. B vitamins support cellular, cardiovascular, neurological and cognitive health, while vitamin B6 is particularly supportive of nutrient metabolism and red blood cell formation. It is offered in this formula as both pyridoxine and the activated form pyridoxal-5-phosphate. Vitamin B12, which aids in energy metabolism and normal function of the immune system, is offered as a combination of methylcobalamin, adenosylcobalamin and hydroxocobalamin. Folate, provided as Metafolin® L-5-MTHF, the universally metabolized and biologically active form of folate, supports normal early development of the fetal brain and spinal cord, while biotin helps to maintain cognitive functions. B vitamins are also involved in methylation reactions alongside choline and inositol.
Recommended Use: Helps to maintain cognitive and immune functions. Helps to form red blood cells. Helps to reduce the risk of neural tube defects when taken daily at least three months prior to becoming pregnant and during early pregnancy.
Recommended Dose: Adults: Take 1 capsule daily with a meal or as directed by a healthcare practitioner. Consult a healthcare practitioner for use beyond 3 months.
Medicinal Ingredients (per capsule): Thiamine (B1) (thiamine hydro- chloride) 100 mg, Riboflavin (B2) (riboflavin, riboflavin 5'-phosphate) 15 mg, Niacin (niacinamide, inositol hexanicotinate) 110 mg, Vitamin B6 (pyridoxine hydrochloride, pyridoxal 5-phosphate) 200 mg, Folate (calcium L-5- methyltetrahydrofolate, Metafolin®) 400 mcg, Vitamin B12 (methylcobalamin, hydroxocobalamin, adenosylcobalamin) 1000 mcg, Biotin 400 mcg, Pantothenic acid (B5) (calcium D-pantothenate) 100 mg, Choline (choline bitartrate) 12 mg, Inositol 25 mg, Vitamin C (ascorbyl palmitate) 6 mg.
Non-Medicinal Ingredients: Hydroxypropyl methylcellulose, Purified water.
---
We Also Recommend