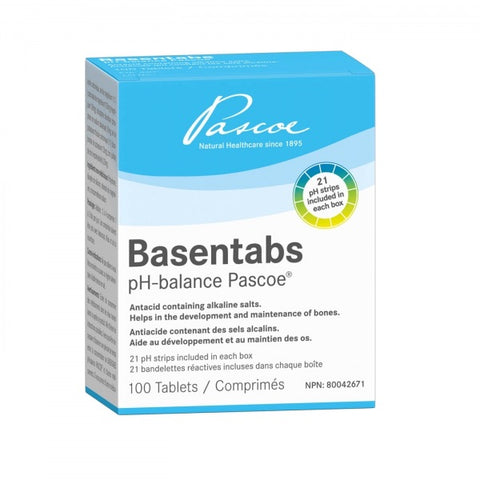 Basentabs pH-Balance - 100tabs - Pascoe
Pascoe Basentabs pH-Balance 
Pascoe Canada's pH-balance Basentabs is an antacid containing alkaline salts that help in the development and maintenance of bones. Add Basentabs to your diet as an alkaline supplement! 
Support for a stable acid-base balance with Zinc
Ideal 3:1 calcium-to-magnesium ratio
Small, easy-to-swallow tablets and each box comes with 21 pH test strips (to purchase the test strips, click 

here

)
Proven high alkalinizing capacity
Made with: Calcium Carbonate,  Sodium bicarbonate, Magnesium Carbonate, Sodium phosphate, Potassium bicarbonate, Zinc 
Medicinal Ingredients:
1 tablet (560mg) contains: Calcium Carbonate 201.7 mg, Sodium bicarbonate 160 mg, Magnesium Carbonate 120 mg, Sodium phosphate, dibasic 20 mg, Potassium bicarbonate 20 mg, Zinc 0.25 mg
Dosage:
Adults: 2-4 tablets 1 to 3 times a day. The tablets should be taken with plenty of water. Take with food.