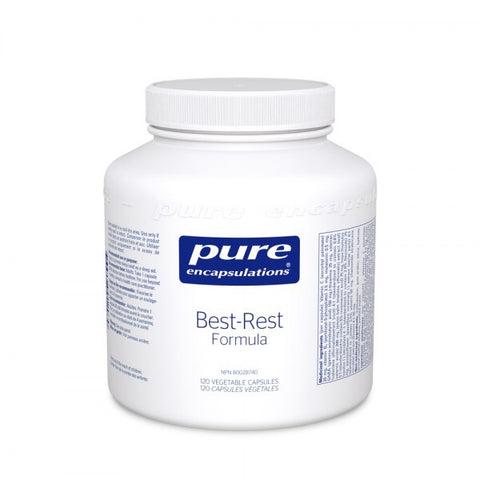 Best-Rest Formula - 120vcaps - Pure Encapsulations
Pure Encapsulations Best-Rest Formula
Features deodorized valerian root extract
Convenient capsule format
Best-Rest Formula supports sleep quality and a healthy sleep cycle by encouraging an easy transition to sleep and a restful night's sleep. This unique blend contains valerian, passion flower, chamomile, lemon balm and hops, which are traditionally used in Herbal Medicine. Double-blind trials involving valerian alone and in combination with other herbs have indicated its potential to support both sleep onset and quality. Best-Rest Formula also includes melatonin and GABA. Melatonin is a hormone produced by the pineal gland. It is synthesized in the circadian rhythm by enzymes, which are activated by darkness and depressed by light. GABA is the primary inhibitory neurotransmitter in the brain, and l-Theanine is a bioactive compound in green tea.
Recommended Use: Sleep aid. Helps increase the total sleep time in people suffering from sleep restriction or altered sleep schedule.
Recommended Dose: Adults: Take 1 capsule 30-60 minutes before bedtime. Consult a health- care practitioner for use beyond 4 weeks. Do not drive or use machinery for 5 hours after taking melatonin.
Medicinal Ingredients (per capsule): Vitamin B6 (pyridoxal 5-phosphate) 1.6 mg, Melatonin 0.5 mg, GABA (gamma-aminobutyric acid) 150 mg, L-Theanine 25 mg, Valerian (Valeriana officinalis) Root Extract 200 mg (3-6:1, 600-1200 mg dried equivalent; standardized to contain 0.8% valerenic acid), Lemon balm (Melissa officinalis) Leaf Extract 75 mg (8:1, 600 mg dried equivalent; standardized to contain 5% rosmarinic acid), Hops (Humulus lupulus) Strobile Extract 75 mg (10:1, 750 mg dried equivalent), Passionflower (Passiflora incarnata) Aerial parts Extract 50 mg (6:1, 300 mg dried equivalent; standardized to contain 3.5% vitexins), Chamomile (Matricaria recutita) Flower Extract 50 mg (7:1, 350 mg dried equivalent).
Non-Medicinal Ingredients: Hydroxypropyl methylcellulose, Purified water, Hypoallergenic cellulose, Gum arabic, Maltodextrin, Ascorbyl palmitate, Silica.