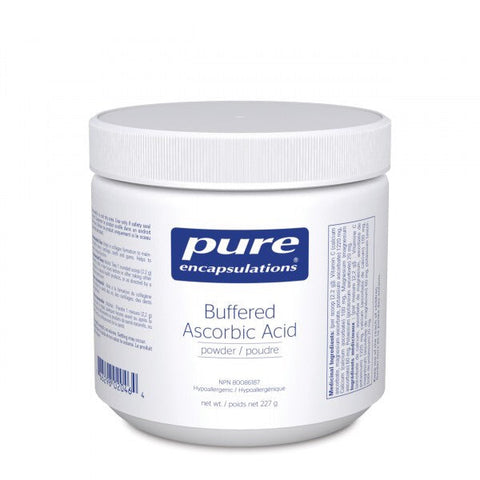 Buffered Ascorbic Acid - 227g - Pure Encapsulations
Pure Encapsulations Buffered Ascorbic Acid
Vitamin C as mineral ascorbates for sensitive individuals
Supports gentle absorption of vitamin C
Helps promote healthy immune function and maintain healthy bones
Improved taste
Made with hypoallergenic, vegan ingredients
Convenient powder formula for easy dispensing
Buffered Ascorbic Acid is buffered with mineral ascorbates to create a neutral pH vitamin C. This may lessen the possibility of gastric irritation in sensitive individuals. Vitamin C offers a wide range of support for the human body. It is an effective antioxidant and free radical scavenger that supports cellular health. It promotes the body's defence system by enhancing white blood cell function and activity, and increasing interferon levels, antibody responses and secretion of thymic hormones. Furthermore, this antioxidant has histamine-lowering properties and increases lymphocyte formation. It is essential for the formation and maintenance of intercellular ground substance and collagen, which are important for bone health. As an integral collagen cofactor, vitamin C also has a role in wound healing.
Recommended Use: Helps in collagen formation to main- tain healthy bones, cartilage, teeth and gums. Helps to maintain immune function.
Recommended Dose: Adults: Take 1 rounded scoop (2.2 g) daily with a meal, a few hours before or after taking other medications or natural health products, or as directed by a healthcare practitioner.
Medicinal Ingredients: (per scoop [2.2 g]): Vitamin C (calcium ascorbate, magnesium ascorbate, potassium ascorbate) 1220 mg, Calcium (calcium ascorbate) 100 mg, Magnesium (magnesium ascorbate) 60 mg, Potassium (potassium ascorbate) 20 mg.
---
We Also Recommend