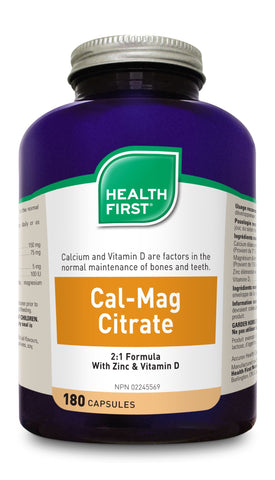 Cal-Mag Citrate 2:1 With Zinc & D - 180caps - Health First
Health First Cal-Mag Citrate 2:1 w Zinc & D
Product Brief: Calcium and Magnesium are minerals primarily known for their contribution to bone health and the prevention of osteoporosis. Supplementation of these two nutrients helps to prevent bone deterioration in postmenopausal women. An estimated one in four postmenopausal women has osteoporosis.
Health First® Calcium & Magnesium has added Vitamin D for increased Calcium absorption and Zinc to prevent Zinc depletion during Calcium and Magnesium absorption. Health First's formula uses the citrate form of minerals, recommended for superior absorption. Studies have shown Calcium Citrate to be four times more absorbable than Calcium from Carbonate sources.
Calcium and Magnesium are also important in regulating high blood pressure. Calcium and Vitamin D are factors in the normal development and maintenance of bones and teeth, especially in infancy and childhood.
Medicinal Ingredients:
Each capsule contains:
Elemental Calcium(Citrate) 150 mg (from 715 mg of Calcium Citrate)
Elemental Magnesium (Citrate,oxide) 75 mg (from 140 mg of Magnesium Citrate and Oxide)
Elemental Zinc(Citrate) 5 mg (from 15 mg of Zinc Citrate)
VitaminD-3 100 IU
Non-medicinal ingredients:
Colloidal silicon dioxide, magnesium stearate, capsule shell (from gelatin and purified water).
Dosage: Adults take two to three capsules daily or as directed by a health professional.
Note: For adult use only.
Free from: artificial colours, artificial flavours, gluten, wheat, lactose, preservatives, soy, added sugar and yeast.
---
We Also Recommend