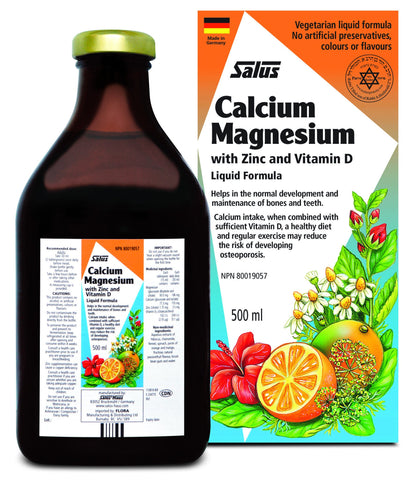 Calcium Magnesium - 500ml - Salus
Bone Loss Begins in Your 30s
Thin, fragile bones are not just a concern for the elderly, but for young people as well. Bone loss actually begins around age 30. That's why you should start strengthening your bones now. Salus® Calcium Magnesium is a trusted bone supplement designed to support everyone's need for a highly absorbable tonic that ensures calcium goes where it's needed—in the bones, instead of soft tissue.
Salus® minerals are already dissolved in liquid form, promoting maximum absorption for stronger, healthier bones. Small changes can make a big difference. Salus® Calcium Magnesium, combined with a fun exercise regime and a well-rounded diet of mineral-rich foods, gives you the tools you need to build and maintain great bones—for a lifetime.
Easy lifestyle ideas for strong bones:
Eat fresh, whole foods high in calcium and magnesium: dark leafy vegetables, sesame seeds, chickpeas, broccoli and yogurt
Limit soft drinks, caffeine, sugar, salt and processed foods as they increase mineral loss from the body
Participate in strength-training and weight-bearing (walking, tennis, dancing, running, yoga) exercises at least 3 times a week
NPN claims
A factor in the maintenance of good health
Helps in the normal development and maintenance of bones and teeth
Calcium intake, when combined with sufficient Vitamin D, a healthy diet and regular exercise, may reduce the risk of developing osteoporosis
Helps the body to metabolize proteins, fats, and carbohydrates
Helps to maintain proper muscle function
Benefits
Salus® Calcium Magnesium is a factor in maintaining good health and supports the calcium and magnesium needs of men, women and children
Calcium gluconate and calcium lactate are highly soluble organic compounds of calcium suitable for use in liquid solutions and are rapidly absorbed throughout the digestive tract
Calcium gluconate and lactate are able to utilize both types of absorption sites in the small intestine - active transport sites located at the beginning of the small intestine and passive diffusion sites located in the more alkaline environment at the end of the small intestine
A higher magnesium to calcium ratio helps lessen the risk of calcification problems
Easy-to-swallow liquid format – No need to swallow pills!
Safe low dose for daily, long-term use
Features
Salus® Calcium Magnesium is a scientifically prepared liquid solution that allows approximately 98% of the elemental calcium and magnesium to be available for absorption by the body – unlike minerals in tablet or capsule form which are less bioavailable and need to first be broken down in the digestive tract
Each daily dose of 2 tbsp (30 ml) provides: 155 mg of elemental calcium (from 1474 mg of compound calcium gluconate and calcium lactate), 186 mg of elemental magnesium (from 3090 mg of compound magnesium gluconate and magnesium citrate), 3.5 mg of elemental zinc and 204 I.U. of vitamin D
Contains vitamin D3 which is a more potent form than the commonly used vitamin D2
Prepared in a natural and delicious fruit juice base along with aqueous herbal extracts, and bottled in recyclable glass
All-vegetarian liquid formula
Certified kosher
Free of gluten, wheat, yeast, dairy, lactose, alcohol, artificial additives and preservatives
MEDICINAL INGREDIENTS:
 

Each tablespoon (15 ml) contains:

Each daily dose (30 ml) contains:

Magnesium (gluconate dihydrate and citrate)
93.0 mg
186 mg
Calcium (gluconate and lactate)
77.3 mg
155 mg
Zinc (citrate)
1.75 mg
3.5 mg
Vitamin D3(cholecalciferol)
102 I.U.
(2.55 µg)
204 I.U.
(5.1 µg)
NON-MEDICINAL INGREDIENTS:
Aqueous extracts of hibiscus, chamomile, fennel, spinach, juices of orange and mango, fructose, natural passionfruit flavour, locust bean gum and water.
RECOMMENDED DOSE:
Adults: Take 30 ml (2 tablespoons) once daily before meals. Shake bottle gently before use. Take a few hours before or after taking other medications.
CAUTIONS:
This product contains no alcohol; or artificial preservatives, colours or flavours.
Do not contaminate the product by drinking directly from the bottle. To preserve the product and prevent its fermentation, keep refrigerated at all times after opening and consume within 4 weeks.
Consult a health care practitioner prior to use if you are pregnant or breastfeeding.
Zinc supplementation can cause a copper deficiency. Consult a health care practitioner if you are unsure whether you are taking adequate copper.
Keep out of reach of children.
Do not use if you are sensitive to Anethole or Matricaria, or if you have an allergy to Asteraceae / Compositae / Daisy family.
Available as: