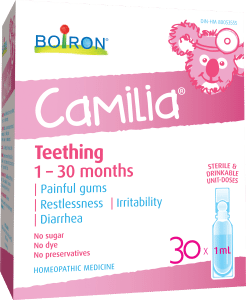 Camilia Teething - 30doses - Boiron
Boiron Camilia
Camilia relieves symptoms of teething.
Camilia relieves pain, restlessness, irritability, and diarrhea due to teething. Developed specifically for babies and toddlers ages 1 to 30 months, Camilia is made with sterile water and contains no sugar, no coloring and no preservatives. Camilia is neutral-tasting and comes packaged in sterile, drinkable and unbreakable unit-doses, making it an easy-to-administer. 
Children from 1 month to 30 months
Hold baby in a seated position. Squeeze entire contents of one single-use unit-dose into baby's mouth. Keep the remaining unit-doses in the aluminum pouch. Give 1* to 6 unit-doses per 24 hours, during 3 to 8 days. Since symptoms often occur during teething episodes, you can give 1 unit-dose at the onset of symptoms and repeat as needed every 15 minutes up to 3 doses. If or when symptoms return, repeat these dosage instructions for up to a total of 6 doses per day for 3 to 8 days.
Ingredients:
CHAMOMILLA VULGARIS 9CH
PHYTOLACCA DECANDRA 5CH
RHEUM OFFICINALE 5CH
Non-Medicinal Ingredient: