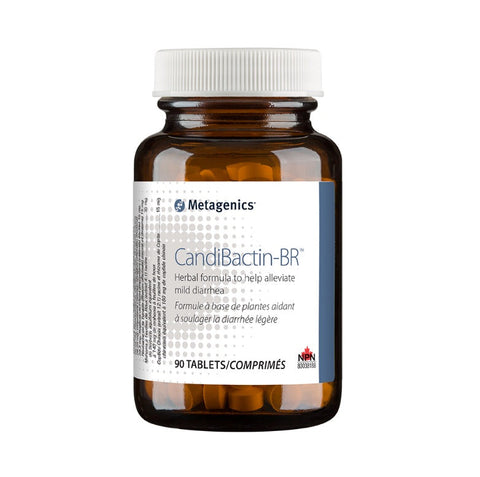 CandiBactin-BR - 90tabs - Metagenics
Metagenics CandiBactin-BR
Non-Medicinal Ingredients: Cellulose, croscarmellose sodium, silicon dioxide, stearic acid (veg), magnesium stearate (veg), and coating (hypromellose, hydroxypropylcellulose, and medium-chain triglycerides).
Recommended Dose: Take 1 tablet 3 times daily or as directed by your healthcare practitioner.
Recommended Use: Berberine HCl, Coptis chinensis, Scutellaria baicalensis, Phellodendron chinense and Rheum officinale help to alleviate minor to mild diarrhea.
Caution: For adult use only. Do not exceed the recommended dosage. Do not take if you are pregnant or breastfeeding; during menstruation; if you are taking cyclosporine; if you are undergoing corticosteroid treatment; if you are experiencing distention and fullness of the chest and abdomen; if you are vomiting; if you have edema, hypertension, hypokalemia, cholestatic disorders, cirrhosis of the liver, chronic renal insufficiency or congestive heart failure; if you have hypoglycemia or hypotension. Consult a healthcare practitioner prior to use if you have a chronic skin condition, are taking prescription medications, or if symptoms persist or worsen. Hypersensitivity has been known to occur; if signs of allergy or rash appear, discontinue use and consult a healthcare practitioner. Consult a healthcare practitioner for use beyond 3 weeks. Do not use if perma seal is missing.
This product is non-GMO, gluten-free, and vegetarian.
Ingredient
Amount
Berbérine (berberine HCl)
180.9 mg
A 4:1 extract of:
150 mg
Chinese Goldthread (Coptis chinensis) (root & rhizome) 45 mg, Chinese Skullcap (Scutellaria baicalensis) (root) 26.25 mg, Phellodendron (Phellodendron chinense) (cortex) 26.25 mg, Ginger (Zingiber officinale) (rhizome) 22.5 mg, Chinese Licorice (Glycyrrhiza uralensis) (root) 15 mg, Turkey Rhubarb (Rheum officinale) (root & rhizome) 15 mg
Oregon Grape (Berberis aquifolium) 4:1 root extract equivalent to 140 mg of oregon grape
35 mg
Chinese Goldthread (Coptis chinensis) 12:1 root and rhizome extract equivalent to 180 mg chinese goldthread
15 mg