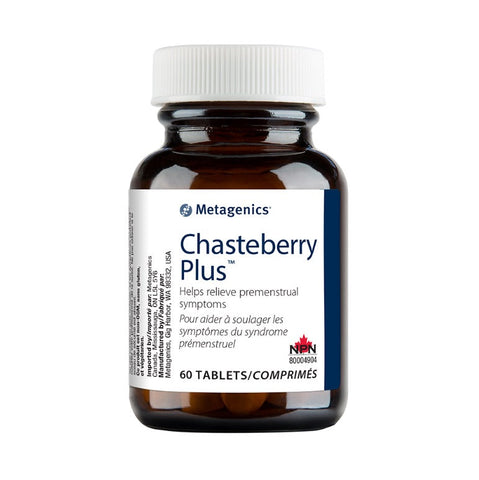 Chasteberry Plus - 60tabs - Metagenics
Metagenics Chasteberry Plus
Non-Medicinal Ingredients: Cellulose, croscarmellose sodium, silicon dioxide, stearic acid (veg), and coating (hypromellose, hydroxypropylcellulose, and medium-chain triglycerides).
Recommended Dose: Adults take 1 tablet twice daily or as directed by your healthcare practitioner. May be used up to 6 months.
Recommended Use: To help relieve premenstrual symptoms.
Caution: Do not use if you are pregnant, breastfeeding, undergoing in vitro fertilization, or have uterine ovarian or breast cancer. Consult your healthcare practitioner prior to use if you have a liver disorder or develop symptoms of liver trouble, peptic ulcer or an autoimmune condition. Consult a healthcare practitioner if symptoms persist. Do not use if perma seal is missing.
This product is non-GMO, gluten-free, and vegetarian.
Ingredient
Amount
Chasteberry (Vitex agnus-castus) 10:1 fruit extract equivalent to 1 g of chasteberry
100 mg
Ashwagandha (Withania somnifera) 15:1 root extract equivalent to 900 mg of ashwagandha
60 mg
Black Cohosh (Actaea racemosa) root & rhizome extract standardized to 2.5% triterpene glycosides
40 mg