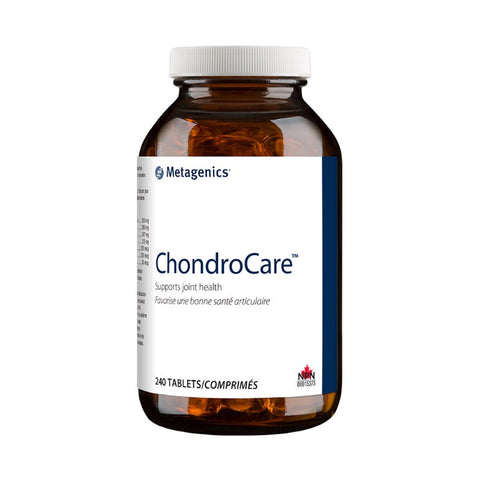 ChondroCare - 240tabs - Metagenics
Metagenics ChondroCare
Non-Medicinal Ingredients: Cellulose, croscarmellose sodium, stearic acid (veg), silicon dioxide, and coating (hypromellose, hydroxypropylcellulose, and medium-chain triglycerides)
Recommended Dose: Adults take 2 tablets 3 times daily with food or as directed by your healthcare practitioner. Take a few hours before or after taking other medications. Avoid taking at bedtime.
Recommended Use: To support joint health, reduce joint pain, and support healthy cartilage and connective tissue formation.
Caution: Do not use if you are pregnant or breastfeeding. Discontinue use if allergic reaction occurs or if symptoms worsen. If you are taking medications consult a healthcare practitioner before use. Consult a healthcare practitioner if you experience gastrointestinal pain or bowel movement disturbances, or have a history of non-melanoma skin cancer. Some people may experience mild gastrointestinal bloating, constipation or indigestion. Use for a minimum of 4 weeks to see beneficial effects. Do not use if perma seal is missing.
This product is non-GMO, and gluten- free.
| Ingredient | Amount |
| --- | --- |
| Each tablet contains: |   |
| D-Glucosamine Sulfate KCl from the exoskeleton of shrimp and/or crab | 250 mg |
| Chondroitin Sulfate | 200 mg |
| Methylsulfonylmethane (MSM) | 167 mg |
| Zinc (zinc citrate) | 2.5 mg |
| Copper (copper citrate) | 250 mcg |
| Manganese (manganese citrate) | 250 mcg |
| Selenium (selenomethionine) | 50 mcg |