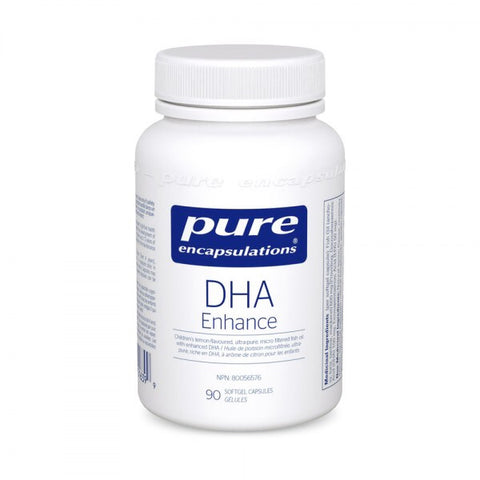 DHA Enhance - 90gels - Pure Encapsulations
Pure Encapsulations DHA Enhance
Provides 100 mg of DHA and 50 mg of EPA per softgel capsule
Helps support the development of the brain, eyes and nerves in children up to 12 years of age
Source of omega-3 fatty acids for the maintenance of good health
Capsules may be chewed or swallowed to ensure patient compliance
Delicious lemon flavour
DHA Enhance is a great-tasting combination of the omega-3 fatty acids DHA and EPA. DHA is the most abundant omega-3 fatty acid in the brain, and is especially essential to support pre- and postnatal brain development. The incorporation of omega-3 fatty acids into neural membranes increases membrane fluidity, and promotes proper neurotransmitter signalling, ion flow, and membranebound enzyme activity. As a result of their role in maintaining neuron function, supplementation with fish oils has been associated with beneficial effects on cognitive health. Specifically, research demonstrates that supplementation with DHA can promote long-term potentiation - a form of synaptic plasticity associated with learning and memory. DHA is also a primary component of the membranes of photoreceptors in the retina - cells responsible for the visual cycle. As recent research shows that decreased DHA levels in the retina may impact the renewal of these cells, the omega-3 fatty acid is necessary for the proper development of retinal structure and visual acuity in young children.
Recommended Use: Helps support cognitive health and brain function. Helps support the development of the brain, eyes and nerves in children up to 12 years of age. Source of omega-3 fatty acids for the maintenance of good health.
Recommended Dose: Children (Over 6 years), Adolescents and Adults: Take 2 - 4 capsules daily. Capsules may be chewed or swallowed. Chewed capsules can be swallowed or expelled.
Medicinal Ingredients (per softgel): Fish oil (from anchovy, tuna, sardine, mackerel) 600 mg (Providing: DHA (docosahexae- noic acid) 100 mg, EPA (eicosapentaenoic acid) 50 mg).
Non-Medicinal Ingredients: Gelatin capsule (gelatin, glyc- erin, water), Natural lemon flavour, Rosemary extract, Ascorbyl palmitate, Natural tocopherols.