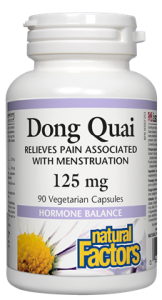 Dong Quai - 90vcaps - Natural Factors
NATURAL FACTORS DONG QUAI 90vcaps
Female tonic for the reproductive system
Increases red blood cell production
Enhances the immune system
Relieves muscle spasms  
Overview
Dong quai (Angelica sinensis) is a superior tonic for gynecological conditions, primarily those related to hormonal imbalances. Natural Factors Dong Quai Extract contains both a 4:1 extract and powdered herb, to help relieve pain associated with menstruation and to help balance hormone levels.
Medicinal Ingredients
| | |
| --- | --- |
| Each capsule contains: | |
| Dong Quai 4:1 Extract (Angelica sinensis) (root) | 125 mg |
| Dong Quai Powder (Angelica sinensis) (rhizome and root) | 250 mg |
Non-Medicinal Ingredients
Rice starch, vegetarian capsule (carbohydrate gum [cellulose], purified water, silica).
Advanced Info
Dong quai is also referred to as "female ginseng", and is the leading Chinese herb for gynaecological health. In Chinese Medicine, dong quai (Angelica sinensis) is revered as the "Queen of Herbs". It is traditionally used as a remedy for painful menstruation, anemia, premenstrual syndrome, pelvic pain, recovery from childbirth or illness, and fatigue or low vitality. Today, clinical evidence shows dong quai to be an effective treatment for painful menstruation.
Dong quai works as a tonic for the female reproductive organs and is helpful for regulating female hormonal health. It is ideal for relieving the pain associated with menstruation. This action is attributed to aromatic compounds in dong quai root that relieve smooth muscle spasms, especially in the uterus. Like many herbs used for female reproductive health, Dong quai is a phytoestrogen. It has effects similar to estrogen and may interact with estrogen receptors, making it helpful for restoring the delicate balance between estrogen and progesterone.
Natural Factors Dong Quai Extract offers effective relief from the pain of menstruation, and promotes gynaecological health. This formula offers a standardized 4:1 extract plus dong quai powder to ensure consistent and potent levels of active ingredients for effective support.