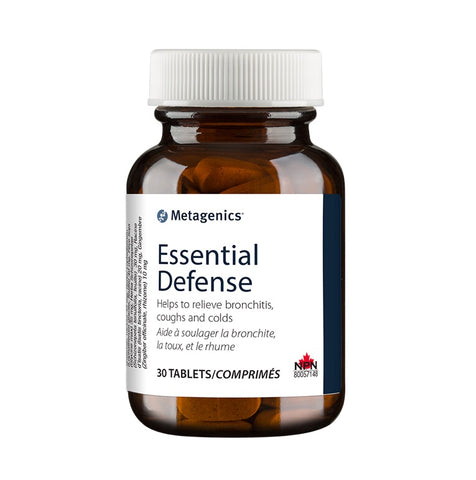 Essential Defense - 30tabs - Metagenics
Metagenics Essential Defense
Helps to relieve bronchitis, coughs and colds.
Non-Medicinal Ingredients: Cellulose, croscarmellose sodium, stearic acid (veg), silicon dioxide and coating (hypromellose, hydroxypropylcellulose, and medium-chain triglycerides).
Recommended Dose: Adults take 2 tablets daily or as directed by your healthcare practitioner.
Recommended Use: Ginger and Licorice are traditionally used in herbal medicine as an expectorant and anti-tussive to help relieve bronchitis as well as coughs and colds.
Caution: Do not use if you are taking thiazide diuretics, cardiac glycosides, corticosteroids, stimulant laxatives or other medications which may aggravate electrolyte imbalance. Do not use if you have hypokalemia, high blood pressure, or a kidney or cardiovascular disorder. Consult a healthcare practitioner if symptoms persist or worsen, if you are pregnant, breastfeeding, have a liver disorder, are taking blood thinners or other medications. Consult a healthcare practitioner for use beyond 4-6 weeks. Do not use if perma seal is missing.
This product is non-GMO, gluten-free, and vegetarian.
Medicinal Ingredients
Amount Per Serving
Each tablet contains:
 
A 5:1 extract of:
500 mg
   Forsythia (Forsythia suspensa, fruit) 85 mg, Japanese Honeysuckle (Lonicera japonica, flower) 85 mg, Platycodon (Platycodon grandiflorus, root) 50 mg, Burdock (Arctium lappa, fruit) 50 mg, Chinese Mint (Mentha haplocalyx, leaf) 50 mg, Chinese Licorice (Glycyrrhiza uralensis, root) 45 mg, Lophatherum herb (Lophatherum gracile, leaf) 40 mg, Soybean (Glycine max) 35 mg, Schizonepeta Herb (Schizonepeta tenuifolia, leaf) 30 mg, Isatis Root (Isatis tinctoria, root) 20 mg, Ginger (Zingiber officinale, rhizome) 10 mg