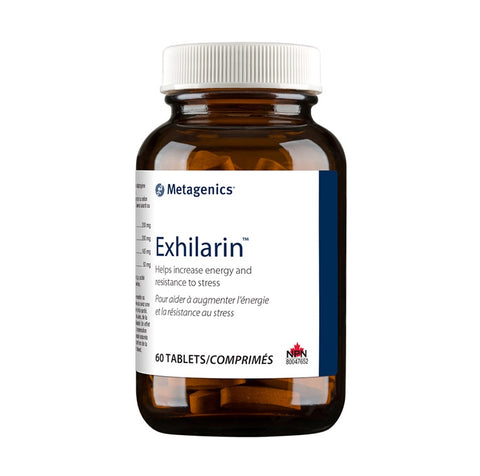 Exhilarin - 60tabs - Metagenics
Metagenics Exhilarin
Helps increase energy and resistance to stress.
Non-Medicinal Ingredients: Cellulose, croscarmellose sodium, stearic acid (veg), silicon dioxide, and coating (hypromellose, hydroxypropylcellulose, and medium-chain triglycerides).
Recommended Dose: Adults take 1 tablet daily or as directed by your healthcare practitioner. Take 2 hours before or after taking other medications.
Recommended Use: Used in herbal medicine as an adaptogen to help increase energy and resistance to stress.
Caution: Do not use this product if you are pregnant, breastfeeding or attempting to conceive. If taking medications, or if you have a heart condition or diabetes, consult your healthcare practitioner. If you have or develop abdominal pain, nausea, fever or vomiting, consult a healthcare practitioner. Laxative effect may occur, in which case, discontinue use. Consumption with alcohol, other drugs or natural health products with sedative properties is not recommended.Keep out of reach of children. Do not use if perma seal is missing.
This product is non-GMO, gluten-free, and vegetarian.
| Ingredient | Amount |
| --- | --- |
| Each tablet contains: |   |
| Ashwagandha (Withania somnifera) 15:1 root extract equivalent to 3,000 mg of ashwagandha | 200 mg |
| Holy Basil (Ocimum tenuiflorum) 8:1 leaf extract equivalent to 1,600 mg holy basil | 200 mg |
| Amla (Phyllanthus emblica) 5:1 fruit extract equivalent to 825 mg of amla | 165 mg |
| Bacopa (Bacopa monnieri) 8:1 whole plant extract equivalent to 400 mg of bacopa | 50 m |