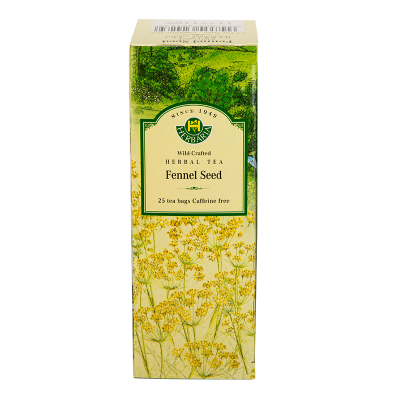 Fennel Seed Herbal Tea - 25bags - Herbaria
Fennel (Foeniculum Vulgare) Herbal Tea 25 Bags
Remedy for sour and upset stomach
Fennel tea will help relieve indigestion
Relieves abdominal pain, may help withcolon disorders
Digestive aid that can alleviate cramps and gas
Useful for stomach acid and heartburn
A tea made from fennel helps to stimulate the flow of breast milk
Wild Crafted
Caffeine Free
Fennel offers a licorice flavor with soothing properties. Fennel with yellow flowers and flattery leaves grows wild in most parts of Europe and North America.
It helps with normalizing the appetite and is a traditional remedy for controlling obesity.
Fennel is an effective treatment for respiratory congestion and is a common ingredient in cough remedies.
---
We Also Recommend