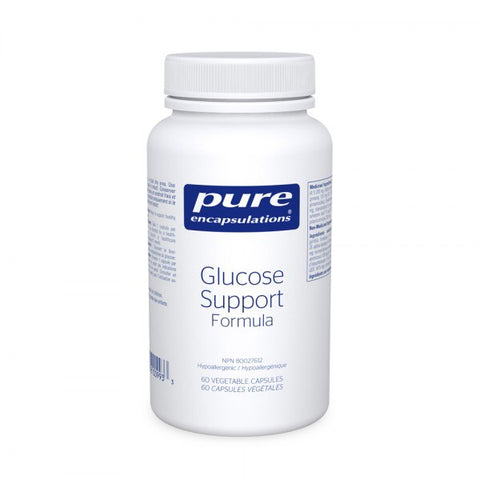 Glucose Support Formula - 60vcaps - Pure Encapsulations
Pure Encapsulations Glucose Support Formula
Supports healthy glucose metabolism.
Offers ChromeMate®, a clinically studied niacin-bound chromium complex
Provides maitake mushroom extract, alpha lipoic acid and other premium herbal extracts
Made with hypoallergenic, vegan ingredients
Glucose Support Formula provides a helpful combination of essential nutrients for healthy glucose support. Chromium is a critical component of Glucose Tolerance Factor (GTF), and optimal levels of chromium are essential for proper glucose metabolism. This formula offers ChromeMate®, a unique niacin-bound chromium complex that may promote GTF activity to maintain healthy glucose metabolism. Alpha lipoic acid is a versatile nutrient that can function as antioxidant in almost any part of the body. Panax ginseng and Eleutherococcus senticosus, or eleuthero, have long been utilized in Herbal Medicine, and are standardized to provide 5% ginsenosides and 0.8% eleutherosides, respectively. The leaves of Gymnema sylvestre, which have been used in India for over 2,000 years, contain important active constituents, including the gymnemic acids. Maitake mushroom has wide-ranging health properties and contains the polysaccharide beta-d-glucan, a unique compound believed to be one of the most powerful for enhancing healthy defence system mechanisms.
Recommended Use: Provides support for healthy glucose metabolism. Source of fungal polysaccharides with immunomodulating proper- ties.
Recommended Dose: Adults: Take 1 capsule daily or as directed by a healthcare practitioner. Consult a healthcare practitioner for use beyond 1 month.
Medicinal Ingredients (per capsule): Maitake (Grifola frondosa) Fruiting Body Extract 200 mg (4:1, 800 mg dried equivalent), DL-Alpha-Lipoic Acid 100 mg, Asian Ginseng (Panax ginseng) Root Extract 100 mg (4:1, 400 mg dried equivalent, standardized to contain 5% ginsenosides), Eleuthero (Eleutherococcus senticosus) Root Extract 100 mg (10-12:1, 1000-1200 mg dried equivalent, standardized to contain 0.8% eleutherosides), Gymnema (Gymnema sylvestre) Leaf Extract 75 mg (20-25:1, 1500-1875 mg dried equiva- lent), Chromium (chromium polynicotinate) 200 mcg.
Non-Medicinal Ingredients: Vegetarian capsule (hypromellose, water).