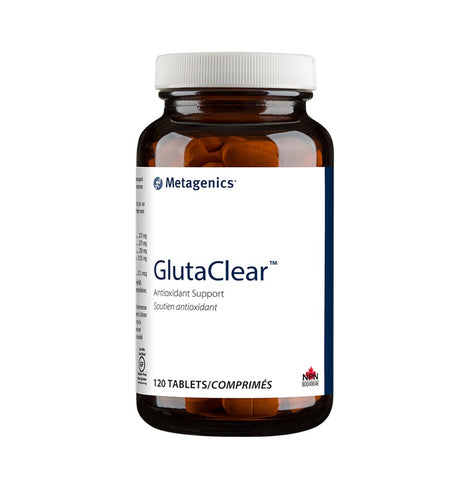 GlutaClear - 120tabs - Metagenics
Metagenics GlutaClear
Antioxidant Support.
Non-Medicinal Ingredients: Cellulose, stearic acid (veg), silicon dioxide, and coating (hypromellose, hydroxypropylcellulose, and medium-chain triglycerides).
Recommended Dose: Adults take 2 tablets daily or as directed by your healthcare practitioner. Take with meals providing protein.
Recommended Use: N-Acetyl-L-Cysteine is a potent antioxidant for the maintenance of good health in individuals under oxidative stress.
Caution: For adult use only. Do not use if pregnant or breastfeeding. Consult a healthcare practitioner prior to use if you have cystinuria, are taking medications, are taking nitroglycerin, antibiotics, and blood thinners, or for use beyond 3 months. Do not use if perma seal is missing.
This product is non-GMO and gluten-free.
| Medicinal Ingredients | Amount Per Servings |
| --- | --- |
| Each tablet contains: |   |
| N-Acetyl-L-Cysteine | 375 mg |
| Niacinamide | 375 mg |
| Vitamin C (ascorbic acid) | 250 mg |
| Brocolli Seed Extract (Brassica oleracea var. italica) (2.5 mg sulforaphane glucosinolate) | 19.25 mg |
| Selenium (selenomethionine) | 37.5 mcg |