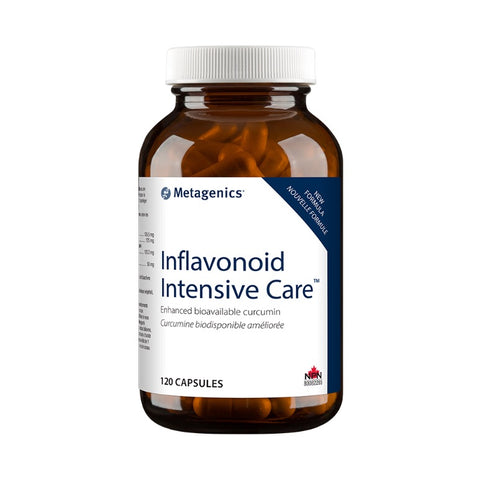 Inflavonoid Intensive Care - 120caps - Metagenics
Metagenics Inflavonoid Intensive Care
Enhanced bioavailable curcumin.
Non-Medicinal Ingredients: Cellulose, hypromellose, stearic acid (veg), and silicon dioxide.
Recommended Dose: Adults take 2 capsules daily or as recommended by a healthcare practitioner.
Recommended Use: Source of bioavailable curcumin with enhanced bioavailability for use as an antioxidant for the maintenance of good health. Provides antioxidants that help protect against the oxidative damage caused by free radicals.
Caution: Consumption of hops with alcohol, other medications and/or natural health products with sedative properties is not recommended. Consult a healthcare practitioner prior to use if you are pregnant or breastfeeding, are taking antiplatelet medication or blood thinners, have diabetes, gallstones, a bile duct obstruction, stomach ulcers, or excess stomach acid. Consult a healthcare practitioner for use beyond 1 month or if symptoms persist or worsen. Do not use if perma seal is missing.
This product is non-GMO, gluten-free and vegetarian.
Ingredients
Amount
Each capsule contains:
 
Hops Polyphenols-Rice Protein Complex
126.5 mg
Curcuminoids-Galactomannan Complex†(Curcuma longa rhizome and Trigonella foenum-graecum seed)
125 mg
Boswellia (Boswellia serrata) gum extract standardized to 66.5% boswellic acids
103.2 mg
Ginger (Zingiber officinale) rhizome extract standardized to 5% total gingerols