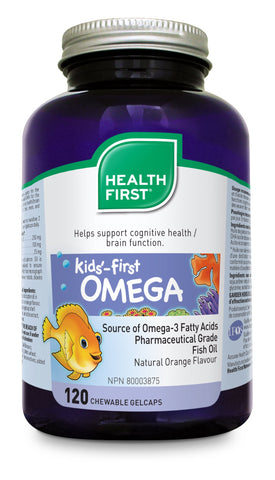 Kids-First Omega - 60chewables - Health First
Health First Kids'-first OMEGA
Product Brief: DHA is particularly important for: Brain Health: The human brain is made up of 20% DHA. Alack of DHA in children is believed to lead to behavioral and mood disorders. Conversely, infants who get sufficient DHA show superior IQ and reduced incidence of asthma than those who do not get sufficient DHA. Eye health: DHA is vital in development of vision during infancy and childhood. DHA makes up 50 percent of the retina's total fatty acids. Source of omega-3 fatty acids for the maintenance of good health. Source of EPA and DHA for the maintenance of good health. Helps support cognitive health/brain function. Helps support the development of the brain, eyes, and nerves
Medicinal ingredients:
Each gelcap contains*:
Fish oil (from anchovy, sardine and salmon body oil)           250 mg
DHA (DocosahexaenoicAcid)                                                      100 mg
EPA(Eicosapentaenoicacid)                                                           25 mg
*Sourced from non-farmed anchovy, sardine, tuna and salmon. Oil is molecularly distilled for purification and analyzed to ensure compliance to the CRN (Council for Responsible Nutrition)
monograph for oxidation, heavy metals, dioxins and PCB's.
Non-medicinal ingredients: Vitamin E (d-alpha tocopherol) in soy bean oil, natural orange flavour, stevia extract and gelcap shell (gelatin, glycerin and water).
Recommended dosage:
Children 1-8 years: chew or swallow 2 gelcaps daily.
Children 9-13 years: chew or swallow 4 gelcaps daily.
Free from: artificial flavours, artificial colours, gluten, wheat, lactose, artificial preservatives, added sugar and yeast.
---
We Also Recommend