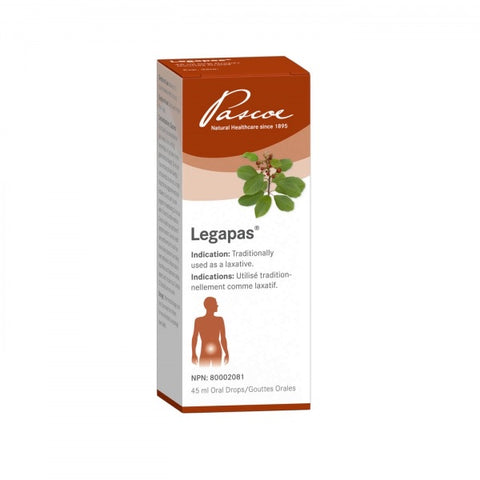 Legapas - 45ml - Pascoe
Pascoe Legapas
Feeling Bloated? Having problems being regular? Constipated? Pascoe Can Help! 
Legapas is traditionally used as a laxative and is made with the naturally sourced medicinal ingredient Cascara Sagrada. Legapas is suitable for adults and children aged 12 and older and should not be used for more than 7 consecutive days. A dose of 30-50 drops should be taken once a day in half a cup of hot water, either in the morning or evening, allowing for 6 to 12 hours for the laxative effect to occur. Legapas is available in 45 ml drops. It is important to understand the cause of being constipated and then to support the intestinal activity. 
Medicinal Ingredients:
1g (= 33 drops) contains: Fluid extract (1:1.0-1.2) of 500 mg Cascara Sagrada – Frangula purshiana (DC.), (bark, aged) standardized to 20 mg of hydroxyanthracene glycosides calculated as Cascaroside A. Extraction fluid: Ethanol 30% m/m). Contains 23% vol. alcohol.
Dosage: 
Adults and children (≥ 12 years): 0.9-1.5g (30-50 drops) once a day in half a cup of hot water in the mornings or evenings. Duration of use: Do not use for more than 7 days. Direction of use: Allow 6 to 12 hours for laxative effect to occur. The maximum daily dose must not exceed 50 drops. The appropriate dose for a given patient is the lowest dose needed for soft, formed stools.