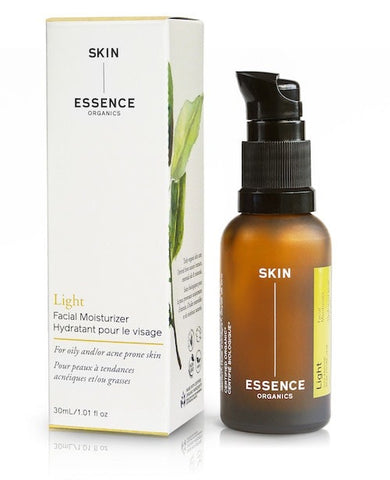 Light Facial Moisturizer - 30ml - Skin Essence Organics
Skin Essence Organics Light Facial Moisturizer
For Oily / Acne Prone Skin
This product is designed specifically for acne and/or oily prone skin that requires light hydration. The extracts and essential oils used in this formula contain natural healing, anti-bacterial and anti-inflammatory properties, which help to keep the skin clean and clear, preventing breakouts.
Application
Always make sure the serums are shaken well before applying so that all of the key ingredients are present in each application.
To ensure deep absorption, massage the serums into the skin thoroughly.
*Tip- After cleansing your skin and before applying the serum, splash your face with cool water. This will help to close your skin's pores and the moisture on the face will also allow the serum to spread easily and evenly. Water also has a natural capillary action, which will help to pull the vitamins and minerals into your skin, leaving a healthy glow!
(Each serum takes about 5 minutes to fully absorb.)
For optimum freshness, use within 6 months of opening.
Composition
The variety of unique ingredients chosen for this serum have been delicately balanced to effectively heal, hydrate and tone the skin achieving a healthy, clear complexion.
Ingredients: Jojoba Seed Oil*, Kukui Nut Oil, Orange Oil*, Eucalyptus Oil*, Lavender Flower Oil*, Lime Oil*, Geranium Oil*, Galbanum Oil*, Lemongrass Oil*, Tocopherol (Vitamin-E)*, Tea Tree Oil*
---
We Also Recommend