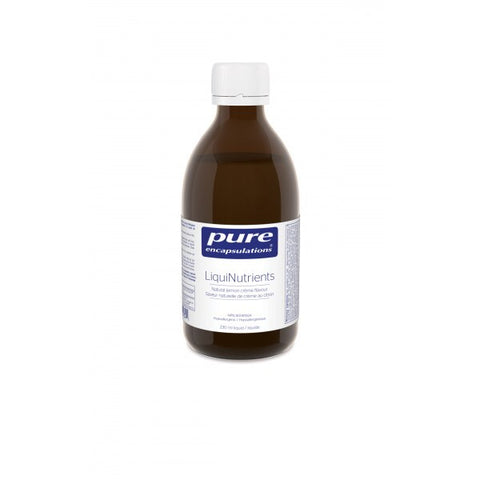 LiquiNutrients - 230ml - Pure Encapsulations
Pure Encapsulations LiquiNutrients
Liquid multivitamin/mineral complex with organic fruits and vegetables
Made without added sugar, fructose or artificial flavours and sweeteners
Made with hypoallergenic, vegan ingredients
Convenient liquid formula for easy dispensing
Great-tasting natural lemon crème flavour

LiquiNutrients is a great-tasting liquid multivitamin and mineral complex designed to support daily wellness in adults. This hypoallergenic vegan formula offers a comprehensive profile of bioavailable vitamins and minerals, with lutein and a blend of organic fruits and vegetables. It provides a range of B vitamins, which are essential to basal mitochondrial function as metabolic coenzymes, playing key roles in energy production and nutrient metabolism. These vitamins also play a key role in the conversion of homocysteine to methionine in the synthesis of S-adenosylmethionine, an important methyl donor used in methylation reactions. Methylation is a key regulator of genetic expression and cellular function. Healthy methylation is vital for cellular health, DNA synthesis, hormone production and energy metabolism. Optimal levels of B vitamins have also been associated with cellular and cardiovascular health. Vitamin C, vitamin E and lutein offer powerful free radical scavenging activity to protect cellular function, while vitamin D promotes calcium homeostasis and helps to build strong bones and teeth. Iodine helps in the function of the thyroid gland and magnesium helps maintain proper muscle function, including the heart muscle. Chromium helps to maintain normal blood glucose levels, while zinc and beta-carotene (provitamin A) help to maintain healthy bones, skin and immune function.
Recommended Use: Source of vitamins and minerals, factors in the maintenance of good health.

Recommended Dose: Adults: Take 2 teaspoons daily with food, a few hours before or after taking other medications or natural health products, or as directed by a healthcare practitioner. Shake well before use.

Medicinal Ingredients (per teaspoon [5 ml]): Beta-Carotene (from Blakeslea tri- spora) 300 mcg (500 IU), Vitamin C (ascorbic acid) 50 mg, Vitamin D3 (cholecalcif- erol) 10 mcg (400 IU), Vitamin E (d-alpha tocopheryl acetate) 10 mg AT (15 IU), Thiamine (thiamine hydrochloride) 3.75 mg, Riboflavin (riboflavin-5'-phosphate sodium) 2 mg, Niacinamide 12.5 mg, Vitamin B6 (pyridoxine hydrochloride) 2.5 mg, Biotin 200 mcg, Pantothenic acid (calcium d-pantothenate) 12.5 mg, Iodine (potassium iodide) 37.5 mcg, Magnesium (magnesium citrate) 10 mg, Zinc (zinc gluconate) 6 mg, Manganese (man- ganese gluconate) 0.5 mg, Chromium (chromium polynicotinate) 100 mcg, Molybdenum (molybdenum citrate) 37.5 mcg, Boron (boron glycinate) 350 mcg, FloraGLO® Lutein (from Tagetes erecta herb flowering oleoresin) 1.5 mg.

Non-Medicinal Ingredients: Purified water, Glycerin, Apple juice concentrate, Calcium citrate, Natural flavours, Organic fruit and vegetable blend (Strawberry fruit, Tart cherry fruit, Blackberry fruit, Blueberry fruit, Raspberry fruit, Beet root, Carrot root, Spinach leaf, broccoli stem and floret, Tomato fruit, Kale leaf, Cabbage leaf, Parsley leaf, Brussels sprout edible head, Green bell pepper fruit, Cucumber whole fruit, Celery stalk, Garlic bulb, Ginger root, Green onion, Cauliflower curd, Asparagus stalk), Medium chain triglycerides, Xanthan gum, Stevia rebaudiana leaf extract, Citric acid, Potassium sorbate, Rosemary leaf extract, Mixed tocopherols.

---
We Also Recommend