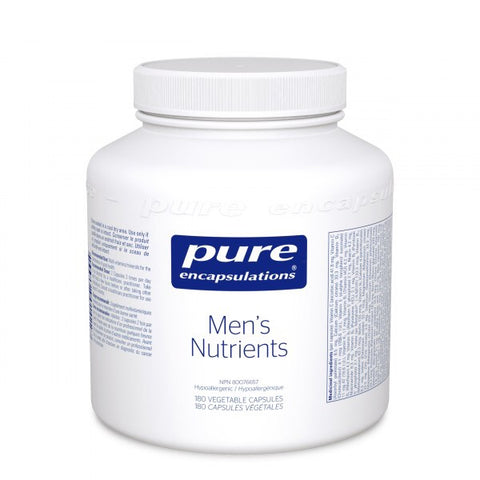 Men's Nutrients - 180vcaps - Pure Encapsulations
Pure Encapsulations Men's Nutrients
Source of vitamins and minerals, factors in the maintenance of good health
Saw palmetto is used in Herbal Medicine to help relieve the urologic symptoms (e.g. weak urine flow, incomplete voiding, frequent daytime and night time urination) associated with mild to moderate benign prostatic hyperplasia (BPH)
Made with hypoallergenic, vegetarian ingredients
Men's Nutrients is a multivitamin and mineral complex formulated specifically for men over 40. Men's Nutrients offers pygeum and lycopene, along with saw palmetto, which is used in Herbal Medicine to help relieve the urologic symptoms (e.g. weak urine flow, incomplete voiding, frequent daytime and night time urination) associated with mild to moderate BPH. This formula also combines superior mineral cofactors, activated vitamins and antioxidants such as lutein and zeaxanthin, the two major carotenoid pigments stored in the macula, the central part of the retina. These nutrients are blended with green tea, plus red wine extract to offer additional support for antioxidant defence. Also included in this formula are maca and astragalus, two important plants used in traditional medicine.
Recommended Use: Source of vitamins and miner- als for the maintenance of good health.
Recommended Dose: Adults: Take 2 capsules 2 times per day with food to minimize gastric dis- turbance, a few hours before or after taking other medications or natural health products, or as directed by a healthcare practitioner. Consult a healthcare practitioner for use beyond 12 weeks.
Medicinal ingredients (per capsule): Beta-carotene (from Blakeslea trispora) 750 mcg (1250 IU), Vitamin C (ascorbic acid, ascorbyl palmitate) 50 mg, Vitamin D3 (cholecalciferol) 4.1 mcg (166.6 IU), Vitamin E (d-alpha tocopheryl acid succinate) 11 mg AT (16.6 IU), Vitamin K1 16.6 mcg, Thiamine (B1) (thiamine hydrochloride) 4.2 mg, Riboflavin (B2) (riboflavin, riboflavin 5'-phosphate) 5.7 mg, Niacin (niacin, niacinamide) 12.5 mg, Vitamin B6 (pyridoxine hydrochloride, pyridoxal 5'-phosphate) 3.4 mg, Folate (L-5-methyltetrahydrofolate, Metafolin®) 133.3 mcg, Vitamin B12 (methylcobalamin) 83.3 mcg, Biotin 133 mcg, Pantothenic acid (B5) (calcium D-pantothenate) 8.3 mg, Calcium (calcium citrate) 33.3 mg, Iodine (potassium iodide) 33.3 mcg, Magnesium (magnesium citrate) 33.3 mg, Zinc (zinc citrate) 2.5 mg, Selenium (selenium-enriched yeast) 33.3 mcg, Manganese (manganese citrate) 333 mcg, Chromium (chro- mium polynicotinate) 33.3 mcg, Potassium (potassium citrate) 16.6 mg, Boron (boron glycinate) 333 mcg, Vanadium (bisglycinato oxo vanadium) 16.6 mcg, Lutein (from Tagetes erec- ta herb flowering oleoresin) 1 mg, Lycopene (from Solanum lycopersicum fruit flesh) 166 mcg, Zeaxanthin 167 mcg, Choline (choline bitartrate) 6.8 mg, Inositol 20.8 mg, DL-alpha lipoic acid 12.5 mg, Saw palmetto (Serenoa repens) Fruit Extract 53.3 mg (7:1, 373.1 mg dried equivalent), Pygeum (Prunus Africana) Stem bark Extract 8.3 mg (standardized to contain 2.5 % phytosterols), Green tea (Camellia sinensis) Leaf Extract 8.3 mg (20:1, 166 mg dried equivalent; standardized to contain 65% catechin and 23% epigallocatechin gallate (EGCG)), Red wine (Vitis vinifera) Fruit Extract 16.6 mg (8:1, 132.8 mg dried equivalent), Grape (Vitis vinifera) Seed Extract 16.7 mg (standardized to contain 92% polyphenols), Pomegranate (Punica granatum) Fruit Extract 8.3 mg (15-20:1, 124.5-166 mg dried equivalent), Maca (Lepidium meyenii) Root Extract 33.3 mg (4:1, 133.2 mg dried equivalent), Astragalus (Astraglus membranaceus) Root Extract 16.6 mg (16:1, 265.6 mg dried equivalent).
Non-medicinal ingredients: Hydroxypropyl methylcellulose, Purified water.
---
We Also Recommend