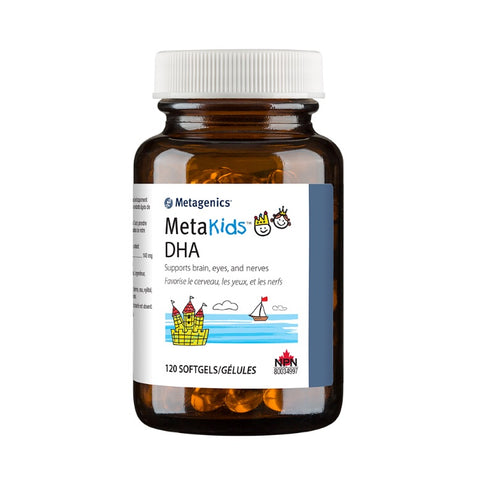 MetaKids DHA - 120gels - Metagenics
Metagenics MetaKids DHA
Supports brain, eyes, and nerves.
Non-Medicinal Ingredients: Gelatin, glycerin, water, xylitol, tutti fruitti flavour, and mixed tocopherols.
Recommended Dose: Children (aged 3–13 years) take 1 softgel 3 times per day or as directed by your healthcare practitioner.
Recommended Use: Helps support the development of the brain, eyes, and nerves in children up to 12 years of age.
Caution: Do not use if perma seal is missing.
This product is non-GMO and gluten-free.
Medicinal Ingredients
Amount Per Serving
Each softgel contains:
 
Squid Oil (Cephalopoda)
   (Providing 10 mg EPA, 50 mg DHA)
   (Derived from a blend of: T. pacificus, I. argentinus, D. gigas)