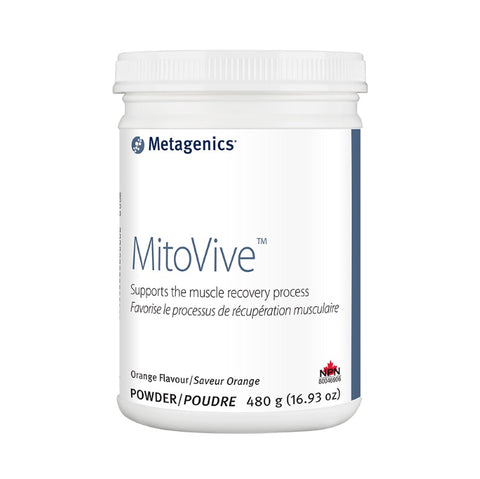 MitoVive - Orange Flavoured 480g - Metagenics
Metagenics MitoVive
Supports the muscle recovery process.
Non-Medicinal Ingredients: Fructose, malic acid, natural orange flavour, silicon dioxide, annatto extract, rebaudioside A (Stevia rebaudiana), and natural tangerine flavour.
Recommended Dose: Adults blend, shake, or briskly stir 1 level scoop (16 grams) of MitoVive with 177 mL (6 fl. oz.) of chilled water daily or as directed by your healthcare practitioner. Take a few hours before or after taking other medications. For muscle recovery, take 2-4 hours prior to exercise.
Recommended Use: Aids in the muscle recovery process by reducing muscle tissue damage associated with a resistance training regimen. Helps support muscle tissue repair in individuals involved in resistance training. Helps support fat metabolism.
Caution: Do not use if you are pregnant or breastfeeding. If you have liver or kidney disease, or a seizure disorder, consult a healthcare practitioner prior to use. Consult a healthcare practitioner for use beyond 6 months.
This product is non-GMO, gluten-free, and vegetarian.
| Ingredient | Amount |
| --- | --- |
| Information per Serving | |
| One Serving (1 level scoop) | 16 g |
| Servings per Container | 30 |
| Calories | 50 |
| Carbohydrate | 9 g |
| Medicinal Ingredients | |
| L-Carnitine (L-carnitine fumarate) | 1,500 mg |
| Taurine | 600 mg |
| Magnesium (magnesium bisglycinate) | 300 mg |
| Vitamin C (ascorbic acid) | 300 mg |
| Calcium (dicalcium phosphate) | 62 mg |
| Potassium (potassium chloride) | 55 mg |
| Phosphorus (dicalcium phosphate) | 50 mg |
| Niacinamide | 50 mg |
| Vitamin B6 (pyridoxine HCl) | 50 mg |
| Thiamin (thiamin mononitrate) | 30 mg |
| Riboflavin | 1.9 mg |
| Vitamin B12 (methylcobalamin) | 150 mcg |
| Folate (calcium L-5-methyltetrahydrofolate) | 150 mcg |
| Chromium (chromium picolinate) | 50 mcg |
| Selenium (selenomethionine) | 25 mcg |