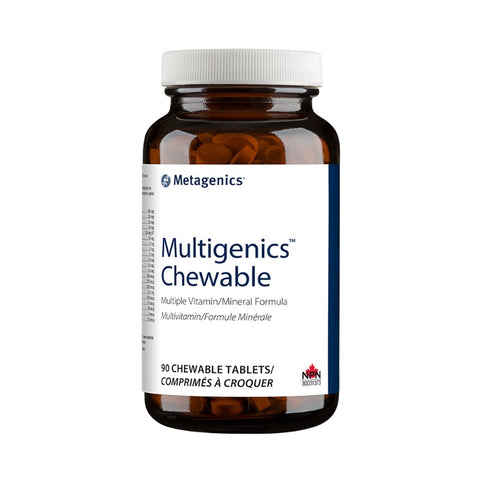 Multigenics Chewable - 90tabs - Metagenics
Metagenics Multigenics Chewable
Multiple Vitamin/Mineral Formula.
Non-Medicinal Ingredients: Fructose, xylitol, sorbitol, stearic acid (veg), natural orange flavour, silicon dioxide, guar gum, malic acid, and citric acid anhydrous.
Recommended Dose: Adults take 3 tablets daily or as directed by your healthcare practitioner. Take with food a few hours before or after taking other medications.
Recommended Use: To provide antioxidants and factors for the maintenance of good health.
Caution: For adult use only. Do not use if perma seal is missing.
This product is non-GMO and gluten-free.
| Medicinal Ingredients | Amount |
| --- | --- |
| Each tablet contains: |   |
| Vitamin C (ascorbic acid, magnesium ascorbate) | 100 mg |
| Niacinamide | 20 mg |
| Calcium (calcium citrate malate) | 15 mg |
| Magnesium (magnesium citrate, magnesium ascorbate) | 15 mg |
| Vitamin E (d-alpha tocopheryl acetate) | 13.4 mg AT |
| Pantothenic Acid (calcium d-pantothenate) | 10 mg |
| Zinc (zinc gluconate) | 2 mg |
| Iron (iron bisglycinate) | 2 mg |
| Quercetin | 2 mg |
| Riboflavin | 1.6 mg |
| Thiamine (thiamin mononitrate) | 1.4 mg |
| Vitamin B6 (pyridoxine HCl) | 1.4 mg |
| Beta-Carotene | 750 mcg |
| Vitamin A (retinyl acetate) | 375 mcg |
| Folate (calcium L-5-methyltetrahydrofolate)† | 300 mcg |
| Manganese (HVP††chelate) | 0.2 mg |
| Copper (HVP䠠 chelate) | 100 mcg |
| Iodine (potassium iodide) | 70 mcg |
| Biotin | 38 mcg |
| Vitamin B12 (methylcobalamin) | 6 mcg |
| Vitamin D (cholecalciferol) | 2.5 mcg |
---
We Also Recommend