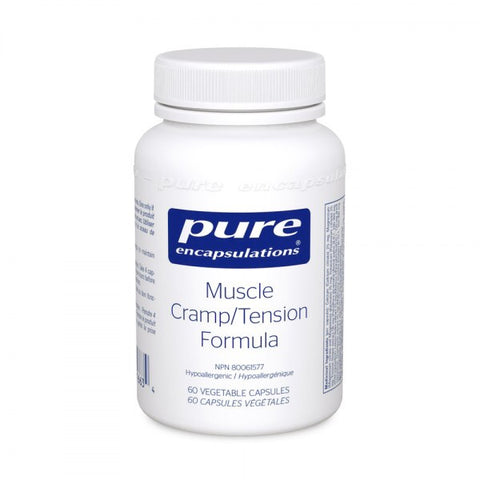 Muscle Cramp/ Tension Formula - 60vcaps - Pure Encapsulations
Pure Encapsulations Muscle Cramp/ Tension Formula
Maintains proper muscle function with electrolytes, magnesium, calcium and potassium
Promotes feelings of calm with lemon balm, passion flower and chamomile
Muscle Cramp/Tension Formula offers important electrolytes to help maintain proper muscle function as well as soothing herbs to promote overall calmness. The electrolytes magnesium, calcium and potassium are important for maintaining healthy muscle contractile function. In several trials, magnesium supported leg muscle function by helping to lessen occasional nighttime cramping, which can otherwise lead to impaired sleep. The traditionally soothing botanicals lemon balm, passion flower and chamomile are also included for their use in Herbal Medicine as mild sedatives and calmatives.
Recommended Use: Helps to maintain proper muscle function.
Recommended Dose: Adults: Take 4 cap- sules once per day. Take a few hours before or after taking other medications.

Medicinal Ingredients (per capsule): Calcium (Calcium citrate) 25 mg, Magnesium (Magnesium citrate and Magnesium glycinate) 75 mg, Potassium (Potassium citrate) 25 mg, Passion flower extract 50 mg (Passiflora incarnata) (Aerial parts) (4-6:1, 200-300 mg dried equivalent), Lemon Balm extract 25 mg (Melissa officinalis) (leaf) (5:1, 125 mg dried equivalent), Chamomile extract 25 mg (Matricaria recutita) (Flower) (6-12:1, 150-300 mg dried equivalent), Vitamin C 4.2 mg (from 10 mg Ascorbyl palmitate).
Non-medicinal Ingredients: Hydroxypropyl methylcellulose, Purified water.
---
We Also Recommend