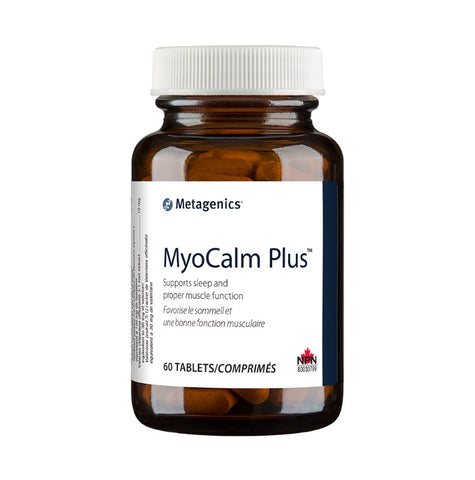 MyoCalm Plus - 60tabs - Metagenics
Metagenics MyoCalm Plus
Supports sleep and proper muscle function.
Non-Medicinal Ingredients: Cellulose, croscarmellose sodium, stearic acid (veg), silicon dioxide, and coating (hypromellose, hydroxypropylcellulose, and medium-chain triglycerides).
Recommended Dose: Adults take 4 tablets at bedtime or as recommended by your healthcare practitioner. Take a few hours before or after taking other medications.
Recommended Use: Passionflower and hops are traditionally used in herbal medicine as a sleep aid. Hops are traditionally used in herbal medicine to help relieve nervousness. Magnesium helps maintain proper muscle function.
Caution: Do not use if you are pregnant or breastfeeding. If you are taking medications or have depression or a related illness, consult a healthcare practitioner before use. Consumption with alcohol or other products with sedative properties is not recommended. Some people may experience drowsiness. Exercise caution if operating heavy machinery, driving a motor vehicle or involved in activities requiring mental alertness. Hypersensitivity has been known to occur; in which case, discontinue use. Consult a healthcare practitioner if symptoms persist or worsen. Do not refrigerate. Do not use if perma seal is missing.
This product is non-GMO, gluten-free, and vegetarian.
Medicinal Ingredients
Amount Per Serving
Magnesium (magnesium citrate)
50 mg
Lemon Balm (Melissa officinalis) 4:1 leaf extract equivalent to 200 mg of lemon balm
50 mg
Calcium (calcium lactate)
25 mg
Passionflower (Passiflora incarnata) 5.5:1 aerial parts extract equivalent to 110 mg of passionflower
20 mg
Hops (Humulus lupulus L.) 7.5:1 strobilus extract equivalent to 150 mg of hops
20 mg
Valerian (Valeriana officinalis) 3:1 root extract equivalent to 30 mg of valerian