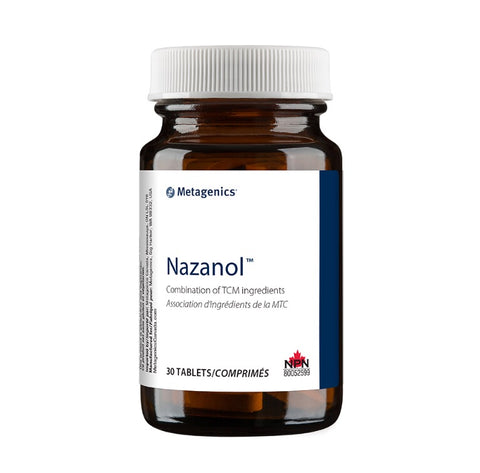 Nazanol - 30tabs - Metagenics
Metagenics Nazanol
Combination of TCM ingredients.
Non-Medicinal Ingredients: Magnesium stearate (veg), silicon dioxide, and coating (dextrin, dextrose, lecithin, sodium carboxymethylcellulose, and sodium citrate).
Recommended Dose: Adults take 2 tablets 3 times daily or as directed by your healthcare practitioner.
Recommended Use: Combination of Traditional Chinese Medicine ingredients.
Caution: Do not use if you are pregnant or breastfeeding. Consult your healthcare practitioner if you are taking a prescription medication, anticoagulant or antiplatelet medication, or if you have a febrile or bleeding disorder. If symptoms persist or worsen or if new symptoms develop consult your healthcare practitioner. For prolonged use consult a healthcare practitioner. Do not use if perma seal is missing.
This product is gluten-free and vegetarian.
Medicinal Ingredients
Amount
Each tablet contains:
 
A blend of: Scutellaria baicalensis

) (root) 183.75 mg, Bai Zhi (

Angelica dahurica

) (root) 183.75 mg, Jing Jie (

Schizonepeta tenuifolia

) (aerial parts) 147 mg, Gui Zhi (

Cinnamomum cassia

) (twig) 147 mg, Cang Er Zi (

Xanthium sibiricum

) (fruit) 147 mg, Huang Qi (

Astragalus membranaceus

) (root) 147 mg, Bai Zhu (

Atractylodes macrocephala

) (rhizome) 147 mg, Fang Feng (

Saposhnikovia divaricata