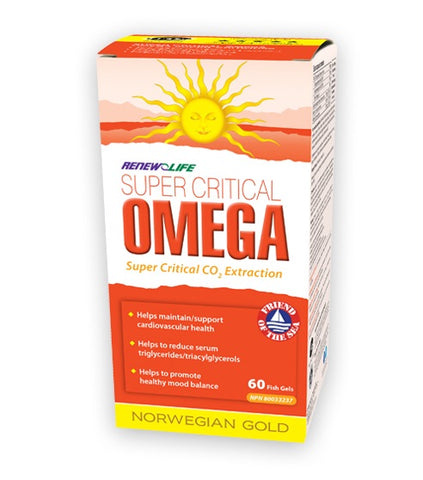 Norwegian Gold Super Critical Omega - 30gels - Renew Life
Renew Life Norwegian Gold Super Critical Omega
Norwegian Gold Super Critical Omega is highly concentrated to deliver over 1000mg of omega-3 fatty acid in every capsule. It is formulated for those who require EFA support for cardiovascular or mood conditions or for people who just want the best fish oil formula with DHA & EPA available. Norwegian Gold Super Critical Omega also includes 1000 IU of Vitamin D per capsule. Vitamin D has many important functions within the body.
Helps maintain/support cardiovascular health.
Helps to reduce serum triglycerides/triacylglycerols.
Helps to promote healthy mood balance.
Helps support cognitive health and/or brain function.
Helps in the development and maintenance of bones and teeth.
Directions for Use
Adults: For the maintenance/support of good health, cognitive health and brain function: Take 1 capsule daily with food. For the maintenance of cardiovascular health: Take 1 capsule daily with food. For the reduction of serum triglycerides/triacylglycerols and for the promotion of healthy mood balance: Take 1 capsule twice daily with food. Swallow whole, do not crush or chew.
PLEASE NOTE: Even though Super Critical Omega contains orange flavour, it should not be chewed as the lipase can cause burning of the throat.
Ingredients
Norwegian Gold Super Critical Omega e
ach capsule contains:
Omega-3 Fatty Acids (from fish oils)

1160mg

Eicosapentaenoic Acid (EPA)

790mg

Docosahexaenoic Acid (DHA)

140mg

Other Omega-3s

56mg

Lipase (Triacylglcerol lipase, Rhizopus oryzae)

5mg/33FCC LU

Vitamin E (d-alpha tocopherol)

5mg AT / 7.45I.U.

Vitamin D (cholecalciferol)

25mcg /1000I.U.

EFAs from 1160mg of cold water fish oil (from anchovy and sardine sources)
Non-medicinal Ingredients: Fish Gelatin Shell (fish gelatin, glycerin, purified water, caramel powder), aqueous enteric coating (shellac, sodium alginate, glycerin, lecithin (from sunflower seed oil), medium chain triglycerides, stearic acid, water), natural creamy orange flavour, beeswax, lecithin (from sunflower seed oil)
Contains no nuts, peanuts, sesame seeds, mustard seeds, wheat, gluten, yeast, corn, egg, dairy, crustaceans, shellfish, artificial colour or preservatives, binders or fillers. Renew Life does not use genetically modified ingredients. All ingredients are NON-GMO / GMO-FREE.
---
We Also Recommend