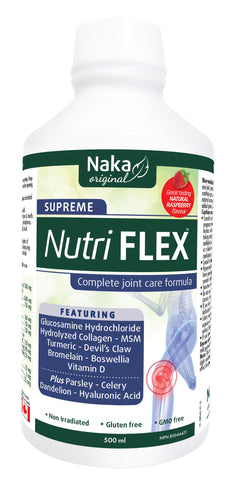 Nutri Flex Supreme - Natural Raspberry Flavour - 500ml - Naka
NAKA NUTRI FLEX SUPREME NATURAL RASPBERRY FLAVOUR 500ml
Nutri Flex Supreme:
• Helps provide improvements for arthritis pain and other herbal ingredients traditionally used in herbal medicine to help relieve joint pain associated with osteoarthritis.
• Helps relieve symptoms of uric acid build up.
• An easy to absorb and well tolerated joint care product, so you can achieve relief from aching joints and symptoms of osteoarthritis.
• Delivered with the benefits of liquid suspension technology for a greater percentage of solids and a more uniform delivery of nutrients with each use.
Recommended Purpose or Use:
• Used in herbal medicine to help relieve joint pain associated
with osteoarthritis.
• Helps to maintain healthy cartilage and joint health. SUPREME
• Helps in the development and maintenance of bones & teeth.
• Helps in the absorption and use of calcium and phosphorus.

Recommended Dose: (Adults) Take 15 ml daily. Avoid taking at bedtime.

Direction of Use: Take 15 ml or mix with half a glass of water or juice. Take with food. Use the calibrated measuring cup provided to obtain an accurate dosage. Do not drink directly from the bottle.

Duration of Use: Use for a minimum of 1 month to see beneficial effects.

Medicinal ingredients: Each 15 ml contains:
Glucosamine Hydrochloride (from shellfish exoskeleton) 1500 mg Hydrolyzed Collagen (Brazil origin, bovine sourced,
BSE free, Halal certified).......................................... 1600 mg MSM (Methylsulfonylmethane)................................... 750 mg Bromelain (Ananas comosus var. comosus, Stem)
[1440000 FCC PU] [96 GDU]................................. 160 mg Parsley (Petroselinum crispum, Leaf powder) ............. 150 mg Celery (Apium graveolens, Seed powder) ................... 150 mg Devil's Claw (Harpagophytum procumbens, Secondary
Root Tuber) [6:1 QCE 900 mg] [5% harpagosides]..150 mg Dandelion (Taraxacum officinale, Root) [4:1 QCE 400 mg] 100 mg Turmeric (Curcuma longa, Rhizome) [95% curcuminoids] 50 mg Boswellia (Boswellia serrata, Gum oleoresin)
[65% Boswellic acids]............................................... 10 mg Hyaluronic Acid (Gallus gallus, Cartilage) ....................... 5 mg Vitamin D3 (Cholecalciferol) [1000 IU].......................25 mcg
Non-medicinal Ingredients: Purified water, stevia rebaudi- ana leaf, potassium sorbate, ascorbic acid, acacia gum, xylitol, xanthan gum, licorice extract, glycerine (vegetable), malic acid, natural caramel colour, natural raspberry flavour. Contains no added gluten, dairy, corn, nuts, soya, eggs, wheat or yeast.
Cautions and Warnings: Consult a health care practitioner prior to use if you are pregnant or breastfeeding or if you have gastrointestinal lesions/ ulcers, stomach ulcers or excess stomach acid, are taking anticoagulant agents, anti-inflammatory agents or antibiotics or before having surgery or if you have gallstones or a bile duct obstruction or if you are taking antiplatelet medication or blood thinners. Consult a health care practitioner if symptoms persist or worsen. Hypersensitivity (e.g. allergy), Nausea, vomiting & diarrhea have been known to occur, in which case discontinue use & consult a health care practitioner. Sensitive individuals may experience allergic reactions. Do not use if you are allergic to plants of the Umbelliferae (carrot, celery) family.
• If you have liver or gall bladder diseases, and/or intestinal obstruction, consult a health care practitioner prior to use.
• Celery seed may increase UV light sensitivity; limit excess exposure to ultraviolet rays (e.g. sunbathing or tanning salons) for prolonged periods while using this product.
• If you have a kidney disorder, do not use.

Known Adverse Reactions: Some people may experience mild gastrointestinal bloating, constipation or indigestion. Note: This is a product with natural components. Therefore, slight variations in the colour and taste are normal and do not affect the quality of the product.
---
We Also Recommend